These first two Jack Sparrow pumpkins were made by the amazing Dan Szczepanski. These pumpkins show why I love Dan's work. While both feature Captain Jack, that is about all they have in common. In the first pumpkin, Jack looks menacing. His facial expression and the way he has the gun resting again his head shows Jack means business. In the second pumpkin, Jack looks maniacal. Also in both pumpkins, Jack's hat and hair are completely different. While both pumpkins are different, the detail and line work on both are simply stunning.
This terrific Captain Jack Sparrow Pumpkin Carving was made by Mother and Me Creative Cakes. The detail on Captain Jack is incredible. Jack is wearing his signature leather hat that looks much like a colonial designed hat. His hair, eyes, mustache, and beard are carved so that they look black on the pumpkin. The beads in his hair are hollowed out and lit up so that they stand out from his black hair. The whites of his eyes and highlights on his face has been hollowed out to show more light. The cloth under Jack's hat is hollowed out to show more light to distinguish it form the hat and Jack's face.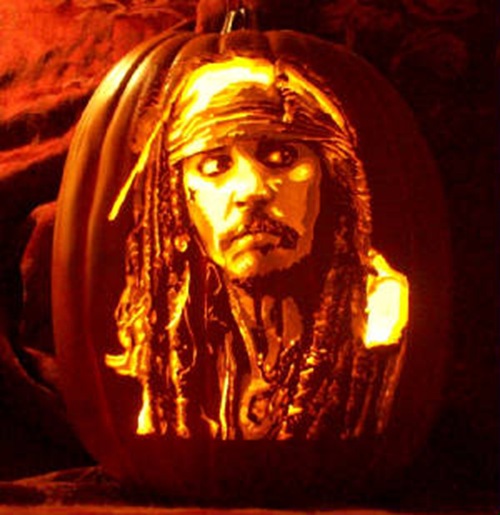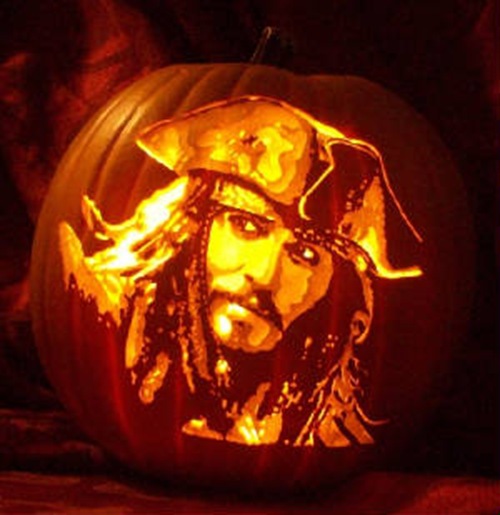 These five stunning Jack Sparrow pumpkin carvings were made by Alex Wer, AKA The Pumpkin Geek. Alex is the master of photo realistic pumpkins. Alex use of varying degrees of light and shadow is absolutely amazing.
Alex is really nice guy. I've had the pleasure of chatting with him via Twitter and e-mail. Alex uses craft pumpkin which don't spoil. He used to be a regular at comic book conventions, where he would display his amazing creations. Since his specialty is character's faces, when he met the actors who played these characters, he would give said pumpkin to them. He has great photographs of people like Jerry Ryan with her Seven of Nine Pumpkin, LeVar Burton with his Geordi La Forge pumpkin, and even Gene Simmons with a KISS pumpkin. Alex has won awards from MTV and was featured in this months issue of People Magazine. Alex used to be so popular at comic book conventions, that Wizard World hired him. He now works with their comic book conventions. So the next time you're at one of Wizard World's cons, keep an eye out for Alex and you may meet one of the world's greatest pumpkin carvers.