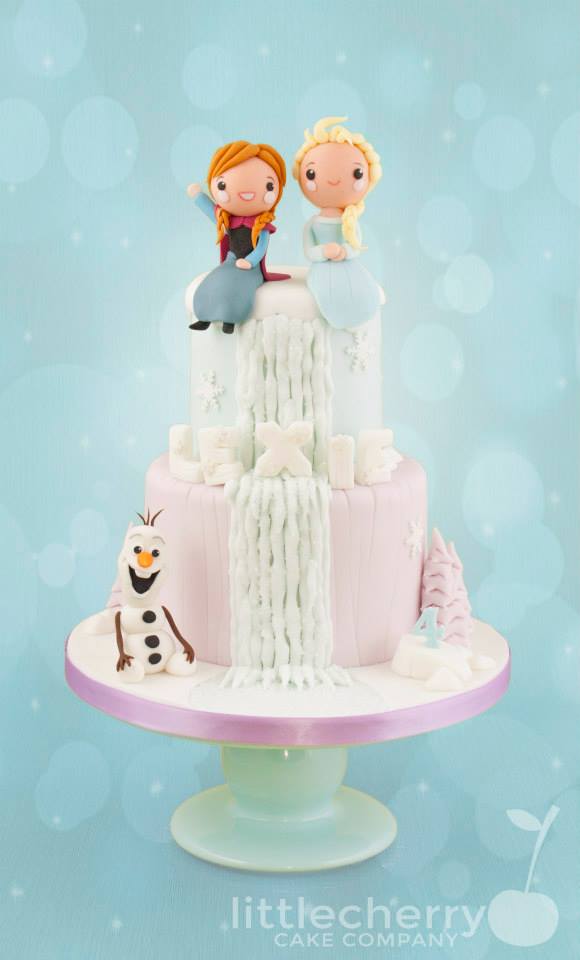 This Fabulous Frozen cake was made by Little Cherry Cake Company. Anna and Elsa are sitting side by side on top the cake on either side of a frozen icy waterfall. They look happy playing together in the snow. I can almost hear Anna saying "Do you wanna build a snowman? Come on let's go and play" And then they build Olaf. Olaf is standing beside the bottom layer of the cake. The birthday name is spelled out use letters made out of ice. Both cake layers are covered in white fondant. There are white snowflakes on the side of the cake. and white snow covered trees beside the cake. The birthday age represented by an icy '4' is on top of a snow bank beside the cake. Both Frozen characters have very rounded faces with large circular dimples on either side of their face. Anna has her hand up in the air waving.
Here's a close-up of Anna and Elsa on top of the cake.
Close-up of Olaf and white icy frozen waterfall.
In addition, check out these terrificFrozen cakes and cookies with Anna, Elsa, and Olaf.