When I saw this cake, two things popped into my head. First, like Mary Poppins, this cake is practically perfect in every way. Second, it made me think of my friend Laura Morton. Laura is a wife, mother, runner, a fan of Disney and Disneyland, and one of Between the Pages biggest supporters. Laura is also the biggest Mary Poppins fan I know. If Laura was a professional cake decorator, this is the cake she'd make. So, I'm dedicating this post to Laura.
This stunning Mary Poppins Cake was made by Cinzia D'Adamo Cakes.
The top of the cake is a cherry tree. The Banks live on 17 Cherry Tree Lane. The cherry tree and its leaves are gorgeous. My favorite thing about the cherry tree is that it goes through the 2nd and 3rd layers of the cake and sits on top of the 1st layer. The part of the tree sitting on top of the 1st layer even has roots.
The top layer of the cake is decorated in brown and beige stripes. There is a penguin with a serving tray on top of this layer.
The second layer of the cake is turned so that one of the corners is facing forward. This allows you two see two sides of this layer at the same time. One side shows the wind blowing and leaves being blown around. The other side has silhouettes of chimney sweeps dancing on rooftops. The dancing chimney sweeps is from the song Step in Time!.
Mary Poppins is sitting on the corner of this layer with her feet dangling over. If you look closely you'll see that she is sitting on a cloud and has a compact in her hand. To the side of Mary Poppins is her parrot head umbrella and her carpet bag.
The bottom layer of the cake has cutouts of the city of London. One of the buildings shown is Big Ben. On the right is a cutout of a cherry tree.
The top of this layer is magical. The cherry tree with its roots sits on top of this layer. Remember that the layer above has two scenes – the wind blowing and the dancing chimney sweeps. This layer accents those two sides. This layer has a weather vain on the side with the wind blowing and a chimney with a silhouette of a dancing chimney sweep on the other side. These two items make the scenes on the 2nd layer more three dimensional and because of that they really stand out and look spectacular.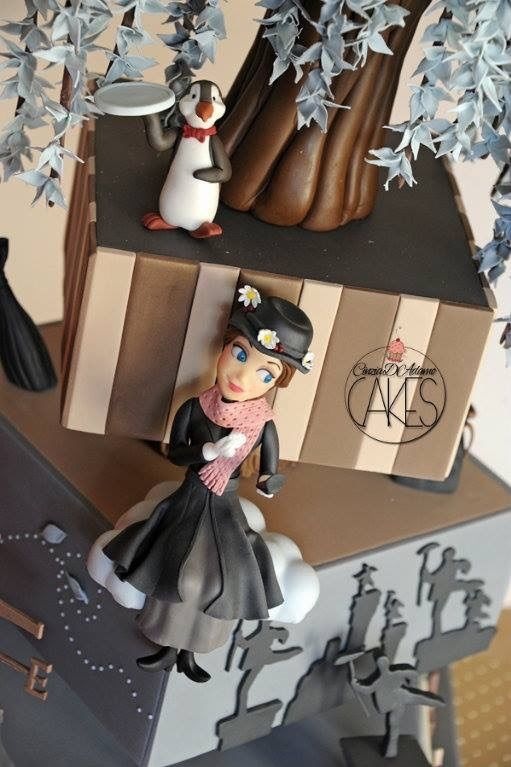 Mary Poppins is ready for her close-up.