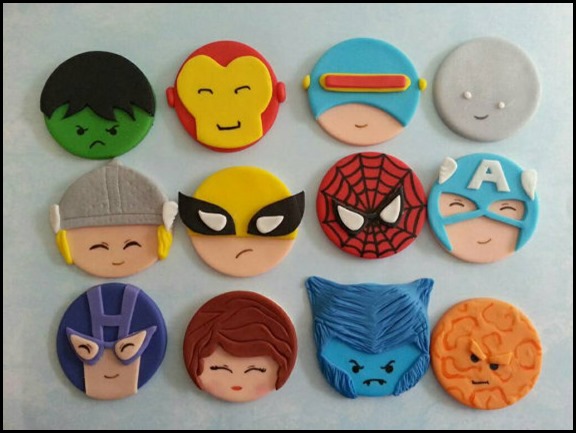 These cute Marvel Super Hero Cupcake Toppers can be purchased from D's Custom Toppers on Etsy. This set of 12 features:
The Hulk – Nothing to SMASH so, Hulk frown!
Iron Man – I like how Iron Man has a square smile
Cyclops – Dhoreen did an wonderful job with Cyclops visor
Iceman – I love the simplicity of this cupcake topper
Thor – Beware, Loki lurks below!
Wolverine – I'm the best there is at what I'm do, and what I do is make cupcakes
Spider-Man – Spider-Man, Spider-Man, does whatever a cupcake can
Captain America – I love how Dhoreen uses little slits for the eyes in this set of toppers. They're more expressive that way
Hawkeye – This is my favorite of the set. The detail is wonderful and I love that Dhoreen used Hawkeye's comic book costume
Black Widow – The hair is terrific on this cupcake topper
The Beast – I love it when less well known characters like, Henry McCoy, get featured
The Thing – Dhoreen did a wonderful job making the Thing look like he is made out of rocks
This second set of 12 Marvel Super Hero Cupcake Toppers features:
Groot – I am Cupcake Topper!
Gamora – The Hulk's long lost twin sister?
Thor – Has Loki outnumbered 11 to 1
Hawkeye – The Avenger's archer makes a great cupcake topper
Black Widow – Gamora and Black Widow both have little eye lashes at the end of their eyes
Captain America – Cap's eyes are different on this topper
Iron Man – I like how the two Iron Man cupcake toppers have very different designs
Spider-Man – I Have No Mouth, and I Must Scream
Loki – I'd frown too, if I was so outnumbered
The Hulk – Gamora's long lost twin brother?
Wolverine – am I the only one who thinks Wolverine looks like he is pouting?
Iceman – Last but not least
Also, take a look at these amazing Superheroes Cakes & Cookies