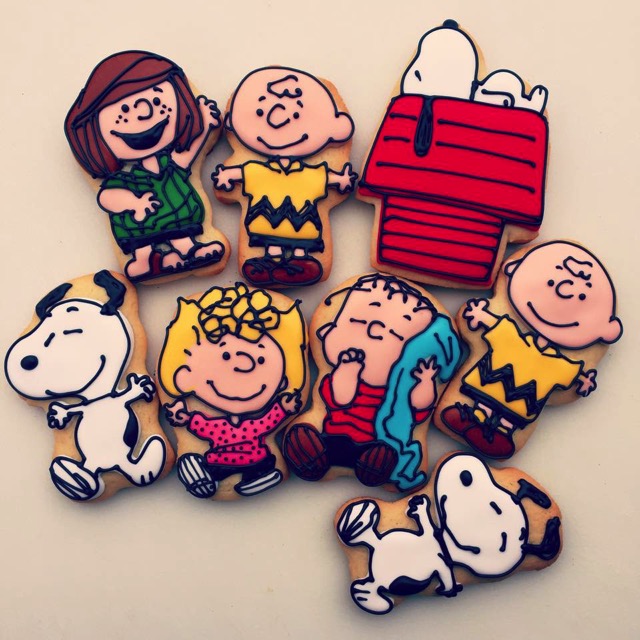 These Fabulous Charlie Brown Cookies were made by Mallory Mae from Butterwinks. These cookies feature Snoopy on his red doghouse, Charlie Brown, Peppermint Patty, Sally, and Linus.
The Peppermint Patty cookie has Peppermint Patty wearing a green shirt with black shorts and sandals. She is smiling and has one hand up waving and the other hand in front of her. She is standing beside Charlie Brown. She has a crush on Charlie Brown and calls him Chuck.
The Charlie Brown cookie shows Charlie Brown wearing a yellow shirt with black trim and black shorts. He is wearing brown shoes. Charlie Brown has his hands outstretched and he is smiling.
One the other side of Charlie Brown is a Snoopy Cookie. Snoopy is lying on his red doghouse while looking up at the sky. He is probably dreaming of being a WWI flying ace against the Red Baron. There are other Snoopy Cookes that show Snoopy standing up with his arms outstretched, dancing, and smiling.
The Sally Cookie shows Sally Brown, Charlie Brown's sister, dressed in a pink with black polka dot blouse and black pants with white shoes. She is smiling and has her hands out. It looks like she is dancing to music. Linus is beside her. Sally has a huge crush on Linus.
The Linus Cookie shows Linus van Pelt sucking his thumb of one hand and holding his blue blanket in his other hand. Linus has his eyes closed. He is wearing a red shirt with black stripes and black pants.
With these characters looking like they are listening to music and dancing, I can picture Schroeder just out of sight playing a lively tune on his piano.
To see Charlie Brown treats for every season, check out Snoopy and Charlie Brown.
Mallory Mae, who made these Fabulous Charlie Brown Cookies, teaches a Craftsy Class that shows you how to decorate cookies. I have taken this class and absolutely loved it!