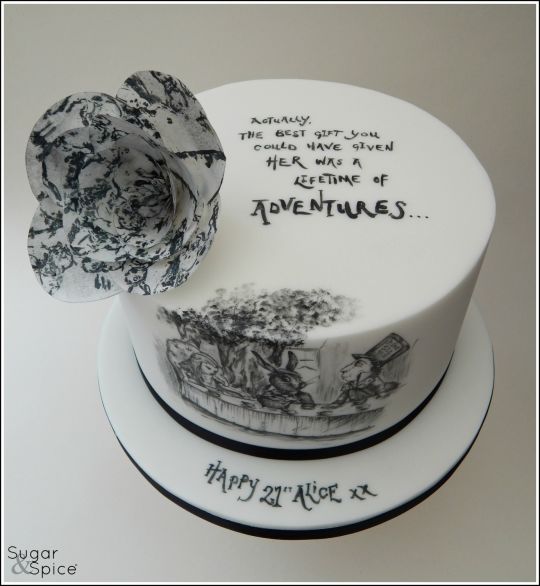 This Marvelous Black and White Hand-Drawn Alice In Wonderland Cake was made by Sugar & Spice. This birthday cake is done in black and white and is based on an illustration from the Lewis Carroll book Alice's Adventures in Wonderland. It has the following quote handwritten onto the top of the cake: 'Actually the best gift you could have given her was a lifetime of adventures…' This cake was created to celebrate the 21st Birthday of a real life Alice who is a huge fan of Lewis Carroll's Alice in Wonderland. At the base of the cake are the words. Happy 21st Alice xx.
This cake was made from an eight inch vanilla madeira cake with buttercream icing in the middle and covered in white chocolate ganache. Black petal dust dissolved in lemon juice was used as an edible paint to hand draw the picture directly onto the white fondant covering the cake. The large white flower on top was made using wafer paper. The flower was decorated with hand-painted scenes also. Black ribbons border the bottom of the cake and cover the side of the cake board.
This picture of the Tea Party looks like a charcoal drawing since it is black and white. There is a large table covered in a white tablecloth. There are teacups all around the table and a teapot on the table near Alice. Alice is sitting in a padded upholstered chair at the head of the table. The White Rabbit is beside her. The Mad Hatter is on the other side of the White Rabbit. He is wearing his distinctive hat and a bowtie. There is a large tree in the background behind Alice and the White Rabbit. The top of the tree extends onto the top of the cake. A wooden door is behind the tree.
Here's a side view of the cake.