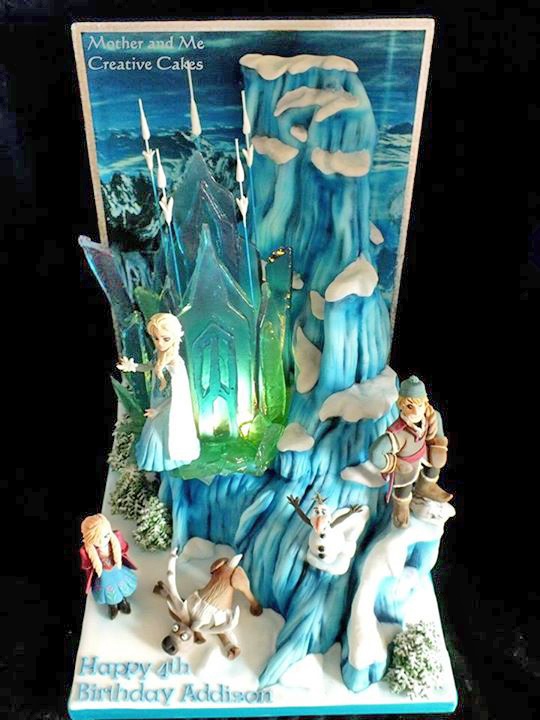 This Fabulous Frozen Birthday cake was made by Mother and Me Creative Cakes. This Disney Cake features Anna, Elsa, Sven, Kristoff, Olaf and the ice castle. This is a multi-tiered carved cake. The cake board is white to represent snow. It has a Happy 4th Birthday greeting. There are evergreen trees on the cake board. Anna and Sven are on the cake board. The ice mountain is beside them. Kristof is standing on a ledge and Olaf is sliding down an icy hill. Elsa and her ice palace are on the snow covered mountain.
Anna is wearing her blue-green winter dress with red cape and with black boots.
Here's a side view of Anna.
Here's a close-up of Anna's face. She has blue eyes.
Here's a close-up of Elsa's face.
Elsa is standing beside the ice castle in the snowy mountains. The ice palace was made using sugar glass.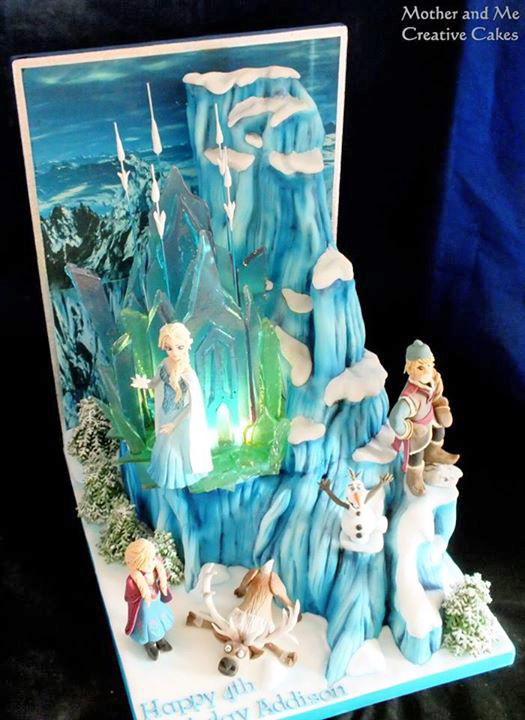 Notice the evergreen trees covered with snow on the cake board at the base of the mountain side.
The cake was made using five tiers of cake layers and it was around 18 inches tall. The figures were made from fondant.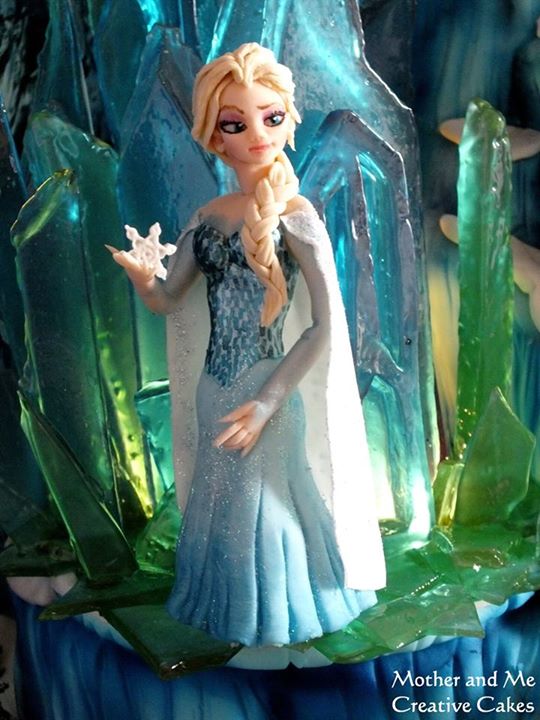 Elsa is wearing her blue ice dress and holding a white snowflake in her hand.
Elsa is surrounded by snow and ice.
Kristoff is standing on the ledge looking out into the distance.
Olaf is smiling while standing on one foot with his hands up in the air.
Sven is lying down with his chin on the ground and his front hoofs stretched out on the ground.
Here's a picture of Anna in progress.
Here's a picture of the Frozen Birthday cake before it has any figures added. The painted background behind the cake can be seen.
In addition, check out these terrificFrozen cakes and cookies with Anna, Elsa, and Olaf.