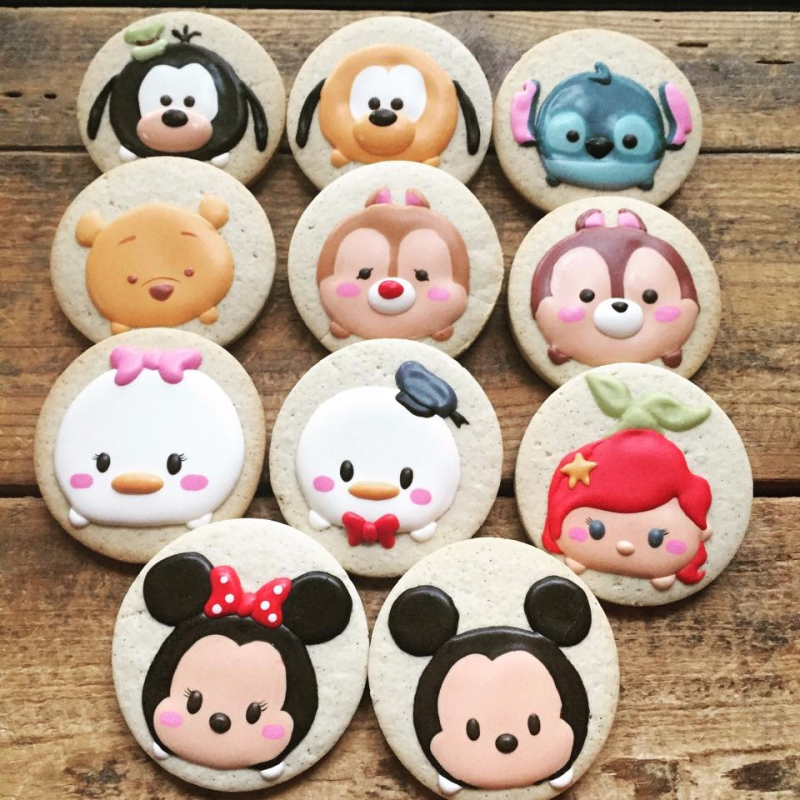 These amazing Disney Tsum Tsum cookies were made by Cookie Cowgirl. They feature Tsum Tsums of Goofy, Pluto, Stitch, Winnie the Pooh, Dale, Chip, Daisy, Donald, Ariel, Minnie, and Mickey. Monica made these for a birthday. They are gluten free and artificial dye free.
I always thought that the Tsum Tsum plushies came first and that the mobile game was based on the plushies. But, as I researched this post, I discovered that the mobile game actually came first. Disney Tsum Tsum began as a mobile game in Japan. The game became so popular that Disney then released the plushies in Japan. Since they were so popular in Japan, Disney released both the game and plushies in the United States.
Disney has also made a series of computer animated shorts featuring Tsum Tsums.
Mission – The Tsums work together to get a strawberry on top of a cake for Minnie.
Frozen – The Tsums accidentally crack the ice on a frozen statue while trying to take a photo.
Hunny Popcorn – The Tsums rescue Pooh from a popcorn popper.
The Butterfly Chase – The Tsums try to stop Tigger from chasing a butterfly.