I made this Fairytale Cupcake Tower for my Nephew's Bride's-To-Be-Bridal Shower. The family wanted a cupcake tower based on fairytales. The Bride likes fairytales and Lord of the Rings and Harry Potter so I made this cupcake tower to represent these.
Here's a view of the top of the cupcake tower with Cinderella's Slipper on a blue pillow.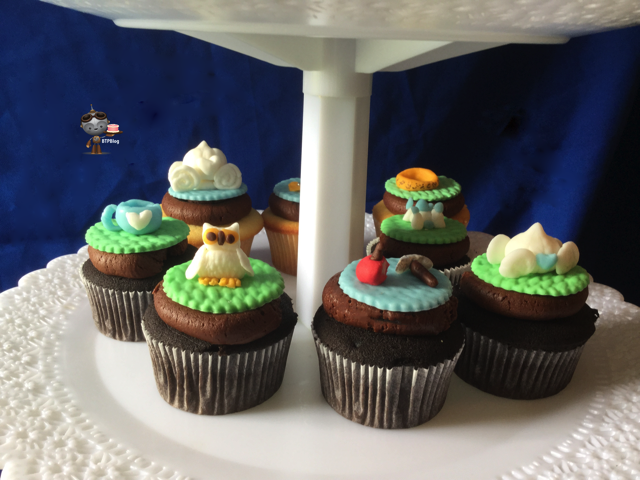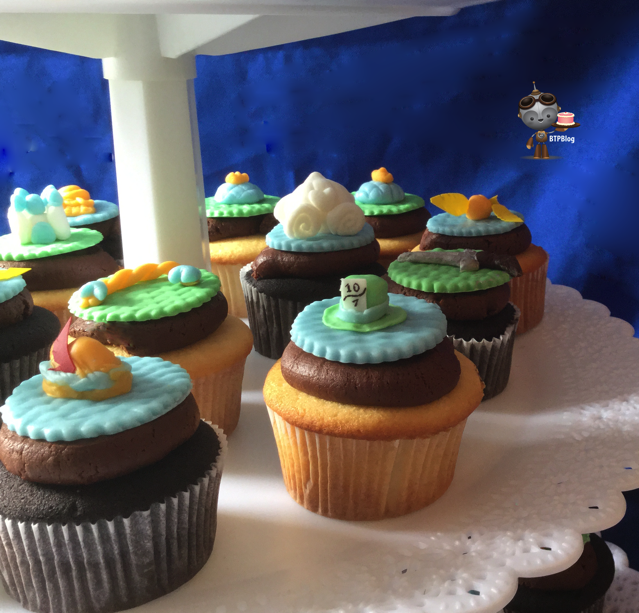 These Cinderella Cupcake Toppers feature Cinderella's White Pumpkin Carriage, Cinderella's glass slipper on a blue pillow, and Cinderella's Castle.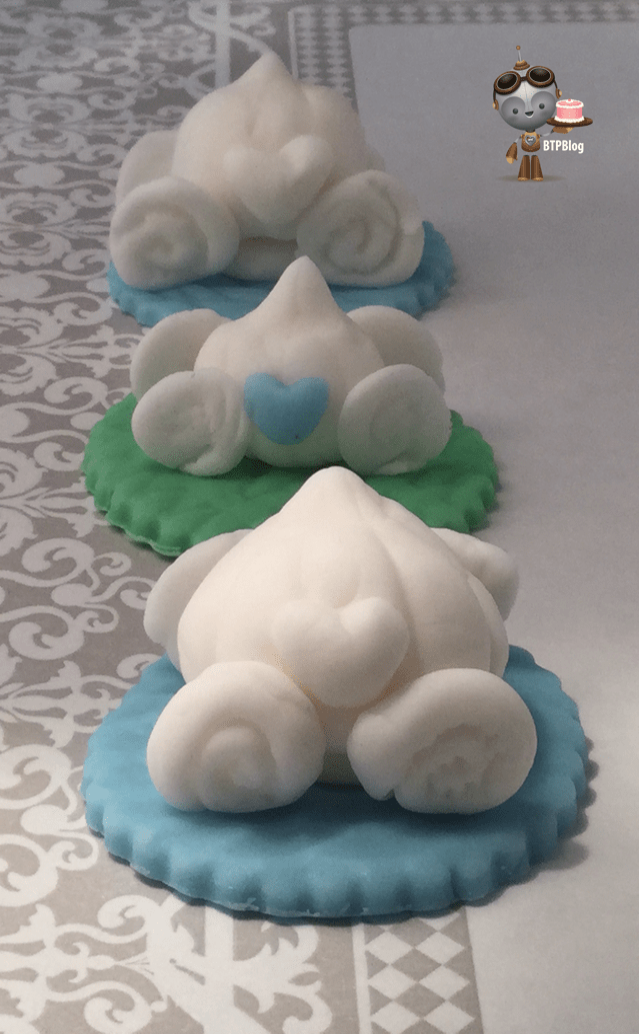 Here's a close-up of these Cinderella Carriage Cupcake Toppers. These Cinderella Carriage Cupcake Toppers were inspired by Cinderella Carriage Cupcake Toppers done by Lynlee's Petite Cakes.
These Alice in Wonderland Cupcake Toppers feature the Mad Hatter's green hat, a blue teacup, and a blue Cheshire Cat.
These Disney Princess Cupcake Toppers feature Belle's yellow dress, Belle's Mirror, the Beast's Red Rose, Snow White's Apple and a Dwarf's pickaxe.
Notice the bite out of the apple on the Snow White Cupcake Topper.
Here are cupcake toppers of Rapunzel's yellow hair, a green Frog Prince, a green beanstalk and the goose's golden eggs, the Yellow Brick Road and the Ruby Red Slippers from the Wizard of Oz, and the gold crown and green pea from Princess and the Pea.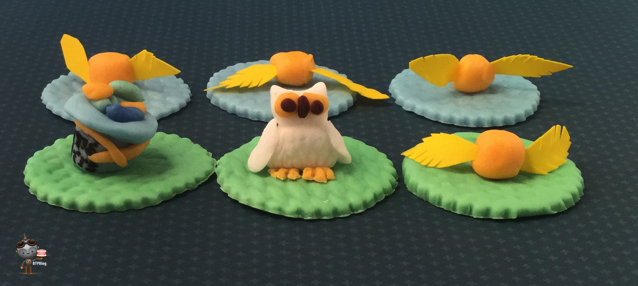 These Harry Potter Cupcake Toppers feature Hedwig, a bag of Bertie Bott's Every Flavor Beans, and Golden Snitches.
Here's a different view of the Golden Snitches.
These Lord of the Rings (LOTR) cupcake toppers feature Leaves of Lorien, the One Ring, and Biblo's Sword Sting from The Hobbit. Frodo uses Sting in LOTR.
These cupcake toppers feature Aladdin's magic lamp on a blue pillow, Robin Hood's hat, and Robin Hood's arrow and target, Peter Pan's Hat, and Pinocchio's yellow hat.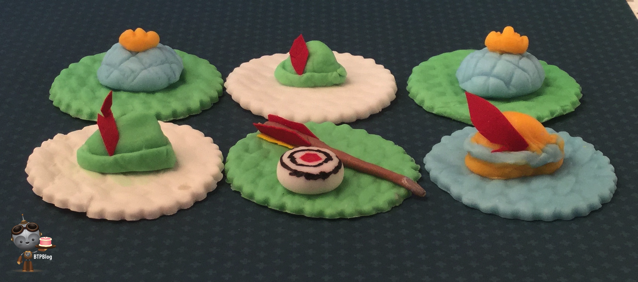 Here's a different angle shot of these Robin Hood, Peter Pan, Aladdin, and Pinocchio cupcake toppers.
Here's a close-up view of the other side of the slipper.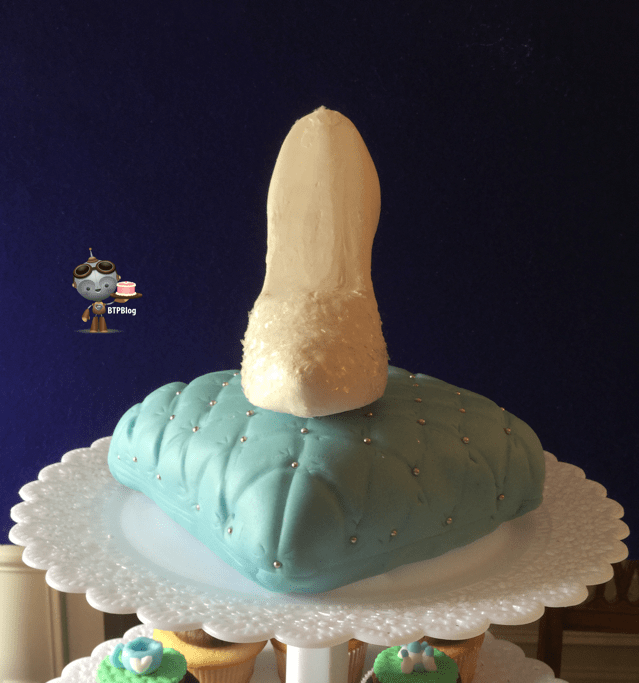 Here's a front view of Cinderella's Slipper in chocolate form.
Here's Cinderella's Glass Slipper on a blue pillow. This Cinderella Pillow Cupcake Tower Topper was inspired by a Cinderella Wedding cake done by Strawberry Lane Cake Company.
Here's a view of the other side of Cinderella's slipper.
Here's a picture of the blue pillow without the shoe on it. It was made using Rice Krispies Treats covered in blue fondant and decorated with silver nonpareils.
Here's a picture of Cinderella's slipper made using white chocolate and covered with edible glitter and white pearl luster dust.