This wonderful She-Hulk Cake Topper was made by Cécile Beaud. Cécile is famous for her sculpted figures. It takes just one look at this figure and you can see why. Where the Hulk isn't very intelligent, has a tiny vocabulary, and an infamous temper, Jen Walters is very intelligent, loves being the She-Hulk and has a wonderful personality. Cécile captures this perfectly by having She-Hulk smiling and carrying a massive rock easily with one hand.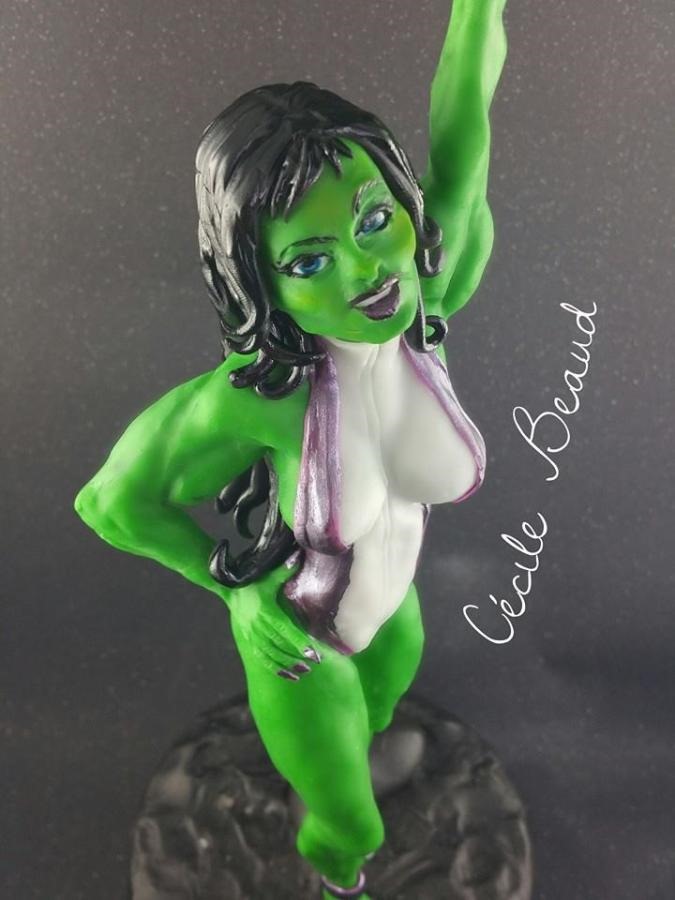 In the comic books, Jennifer Walters is a cousin of Bruce Banner (aka the Hulk). When a group of bad guys come gunning for the Hulk, Jennifer is accidently shot. She losses a lot of blood and needs more to live. But, the only person around with her blood type is her cousin. Jennifer gets the life saving blood, but the radioactive in the blood turns her into a Hulk.
While the comic book origin of She-Hulk is pretty silly, the true origin of the character is fascinating. In the 1970s, The Six Million Dollar Man was one of the most popular shows on television. It had a spin-off, the Bionic Woman, which for a while received even higher ratings. Marvel had the Incredible Hulk with Bill Bixby and Lou Ferrigno on CBS in the late 1970s. Since the Hulk was popular, Marvel was concerned that CBS would create a spin-off TV series featuring a She-Hulk. If this happened, CBS would own all the rights to the character. So, Marvel created She-Hulk. While she was originally created to protect an intellectually property that didn't even exist, she has gone on to become an extremely popular Marvel character.