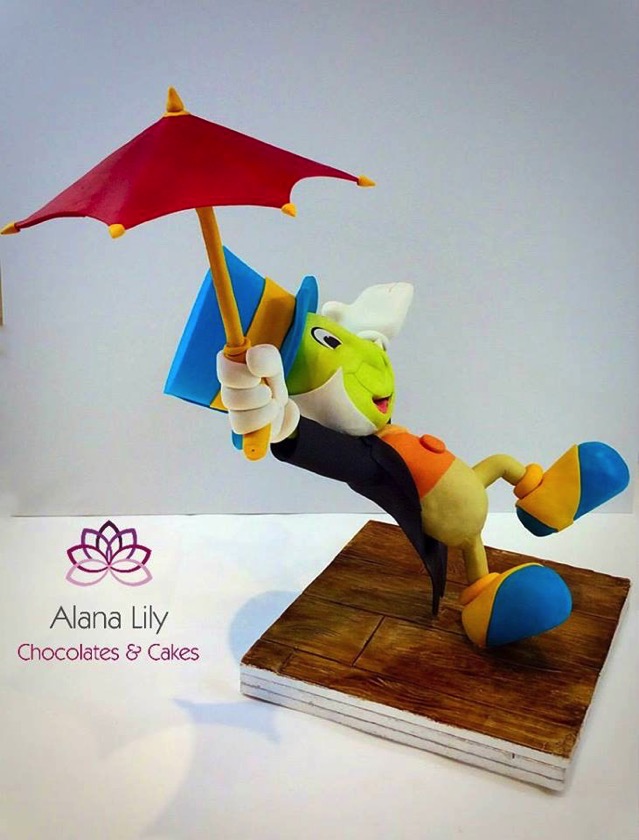 This Magnificient Jiminy Cricket Cake was made by Alana Lily Chocolates & Cakes. He is wearing a blue top hat with a yellow band. He has on white gloves and a black jacket with a white collar. He has on an orange vest with an orange button in the middle. He has on blue and yellow shoes. In his hand, Jiminy Cricket is holding a red umbrella with a yellow handle and frame. It looks like he is being blown back by the wind. He is leaning backward and standing on one foot.
The cake board has a brown wooden floor board pattern.
This cake is part of a When You Wish Upon A Star Cake Collaboration by thirteen bakers to celebrate the 75th anniversary of Disney's Pinocchio in the United Kingdom.
He has a nice smile on his face. He is standing on one foot.
Jiminy Cricket's clothes were renewed by the blue fairy so he could be dressed nicely to be the conscience and a good friend to Pinocchio. The blue fairy's words say to Jiminy Cricket.
"I dub you Pinocchio's conscience, lord high keeper of the knowledge of right and wrong, counselor in moments of high temptation, and guide along the straight and narrow path. Arise, Sir Jiminy Cricket."
My favorite song in Pinocchio is When You Wish Upon A Star sung by Cliff Edwards as Jiminy Cricket.
When you wish upon a star
Makes no difference who you are
Anything your heart desires
Will come to you
If your heart is in your dream
No request is too extreme
When you wish upon a star
As dreamers do
Fate is kind
She brings to those to love
The sweet fulfillment of
Their secret longing
Like a bolt out of the blue
Fate steps in and sees you through
When you wish upon a star
Your dreams come true
This wonderful song is now associated with Walt Disney World.