Nicola Keysselitz From Key For Cakes
BeTeamRed – Inspire and Act to Create Change
BeTeamRed is a collaboration of 200 sugar artists from around the world focusing on World AIDS Day.  The collaboration launches on December 1st, i.e. World AIDS Day.  As part of the countdown to the launch, for the next few days I'm going to be interviewing sugar artists who are new to collaborations.  Here is my interview with Nicola Keysselitz From Key For Cakes.
1.Give me a short bio about yourself and your business.
Nicola Keysselitz is German, but spent 30 years living in Madrid, Spain. Due to the very hard economic situation in Spain, Nicola returned to Germany last year, the place where she grew up, and opened her cake school – Key for Cakes, where she runs classes with the main emphasis on modelling human figures.
Nicola's figures are expressive, individual, and a mixture of reality and Cartoon. When People order a figure she just asks for some photos and then starts modelling, always trying to give a very personal and positive message
Predominantly, Nicola gives classes in her little cake-school or as a guest lecturer in other schools throughout Germany, Austria and Switzerland.
She received several awards in cake-competitions in Germany and Austria.
Her best award: Apr. 2015 – Kuchenmesse Wels – GOLD + BEST OF CLASS + BEST OF SHOW
Her last award: Nov. 2015 – Cake international Birmingham – GOLD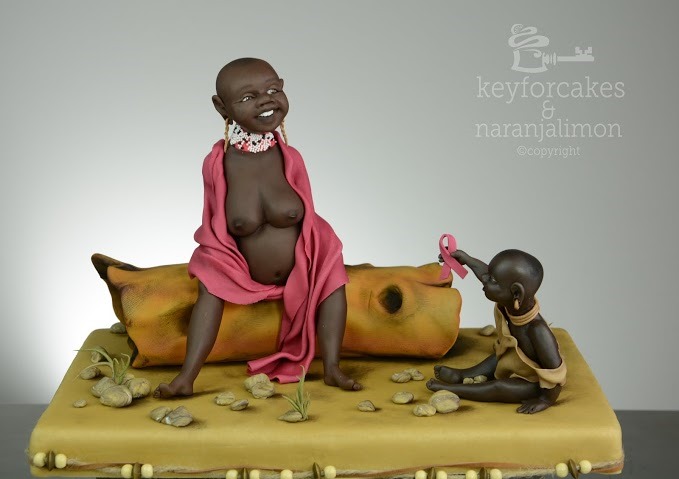 2.Tell me about your piece. What was your inspiration? What is your piece made from and how did you make it?
As a child I had the lucky opportunity to spend some holydays in Kenya. My parents took me to visit a Masai village and I was really impressed of these very special people. Very independent, very pride and most of them with extremely beautiful faces.
The fact that AIDS got a huge problem for these people makes me thoughtful; I know it's especially difficult to reach them because of their rules and way of live, but I don´t give up hope that medical and educational help will improve their situation.
My piece is completely made out of Fondant (just for the Tree I´ve used some Rice Krispie treat. ) I did´t use any photographs or other media for my inspiration, I just used my memories about my beautiful journey I did with my parents when I was a child.
 3.Tell me a fun fact about yourself.
Well, since I started modelling again tree years ago, my way of observing people did change a lot. In the past, when I met new people I just paid attention about their character, now the first thing I think is how to make them out of sugar 😉
Please click on the links below to contribute to The Global Fund to support their war on HIV/AIDS , TB, and Malaria in countries in need.
GoFundMe: https://www.gofundme.com/beteamred
BonfireFund T Shirts: https://www.bonfirefunds.com/unsa-beteamred