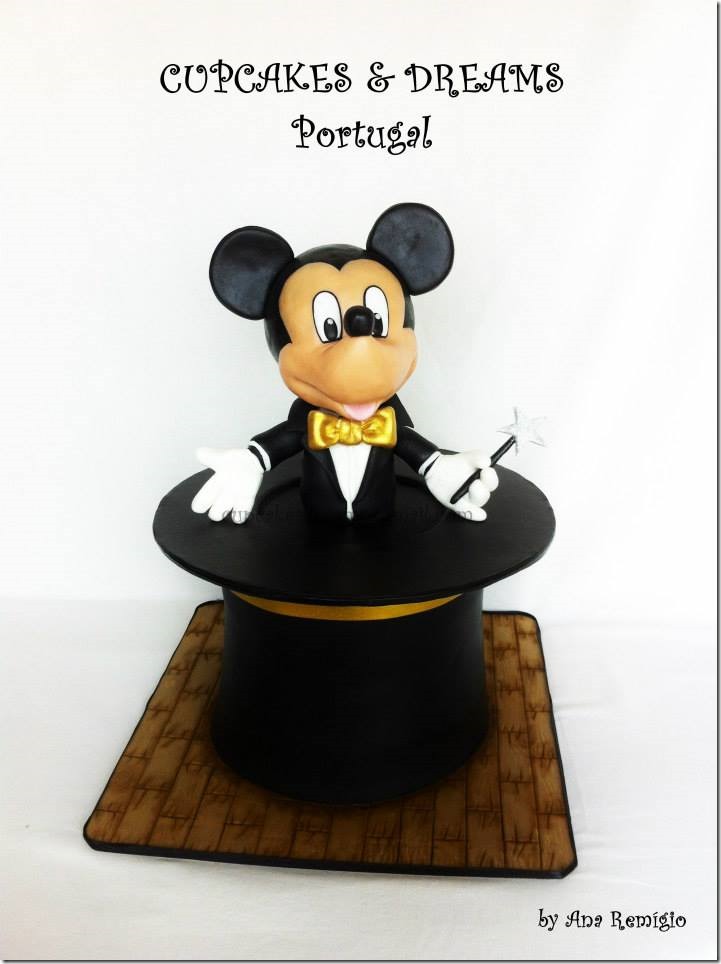 This Fabulous Magician Mickey Mouse Cake was made by CUPCAKES & DREAMS. Mickey is wearing a black tuxedo jacket, a white shirt, white gloves, and a gold bow tie. He is holding a magic wand in his hand. Instead of Mickey pulling a rabbit out of a hat, Mickey himself is popping out of this black magician's hat. The black hat has a gold band.
The magician's hat is the cake. The cake board is covered in a brown wooden board pattern.
Mickey Mouse appeared as a Magician in a 1937 Walt Disney Mickey Mouse cartoon called Magician Mickey. In this cartoon, Mickey is performing as the magician at a magic show. However, he is heckled and interrupted by Donald Duck.
Mickey's Magician's costume with the black tuxedo and gold bowtie can be seen in a props cabinet at the Town Square Theatre in Magic Kingdom at Walt Disney World Resort in Florida. Mickey Mouse meets and greets guests in his rehearsal room at this location. He is dressed in black pants with two large yellow buttons on the front. He is wearing a blue cape with gold trim, and a red vest. On occasion, this Mickey is known to talk to guests.
More magical Mickey Mouse cakes and cookies can be found here.