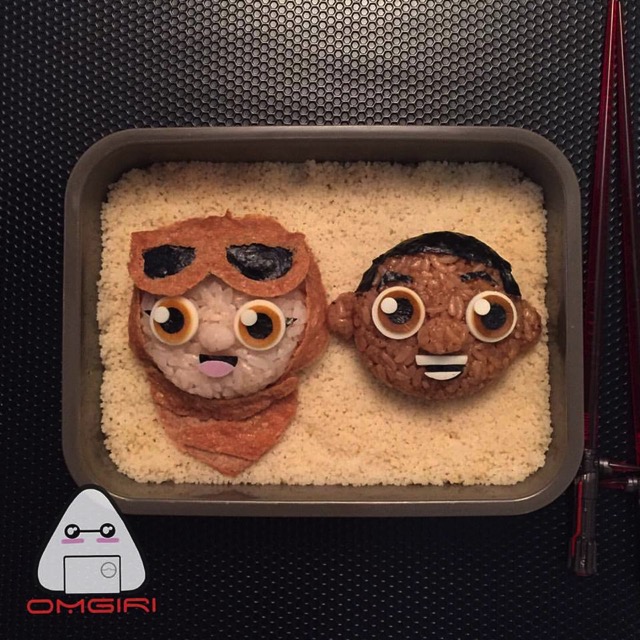 This Magnificent Star Wars: The Force Awakens Bento Box was made by OMGiri.
We meet Finn and Rey, two of the heroes of the new movie Star Wars: The Force Awakens, early in the movie. This unlikely pair of heroes is thrown together through a set of unlikely circumstances and a little round droid, BB-8.
It looks like Rey was made using white rice. Her tunic and hood and glasses look like they were made using thin meat slices. Her eyes look like they were made using egg and Nori seaweed. It links like her mouth was made from seaweed and a thin piece of meat.
Finn looks like he was made using a large ball of brown rice with smaller balls of brown rice for his ears and his nose. It looks like his hair and eyebrows were made using Nori seaweed. His mouth appears to be made of eggs and seaweed and his eyes looks like they may be made of seaweed, egg, and thin meat slices.
This Rey and Finn Bento Box give us the opportunity to have a fun lunch with some of Star Wars newest heroes.
Hats off to Mike Kravanis for making this wonderful Disney Bento Box!
Check out these other great Star Wars bento boxes: BB-8 Bento Box From Jakku, Terrific Chewbacca and Han Solo Bento Box, and BB-8 Bento Box From Takodana, and Fantastic Kylo Ren and Stormtrooper Bento Box.