This Superb Downton Abbey Cake inspired by two dresses was made for the Downton Abbey Themed Cake Collaboration – A Sweet Farewell To Downton.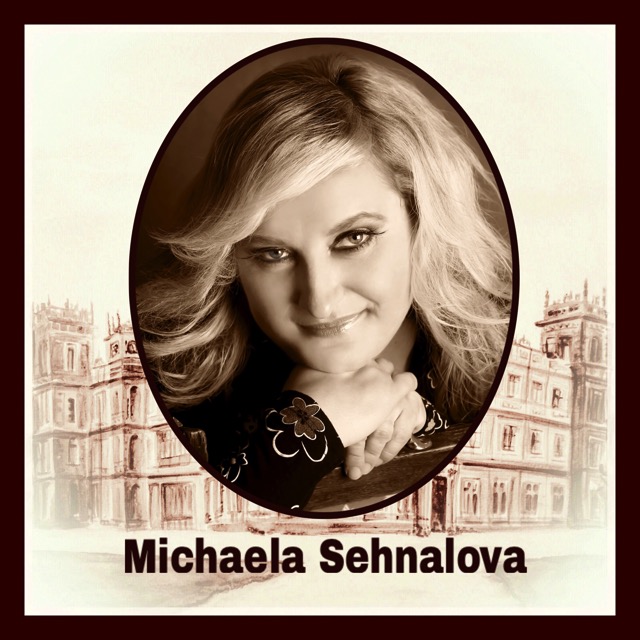 This Superb cake was made by Michaela from Michaela-fantazie z cukru.
Here is Michaela's bio:
Sugar paste creativity stole my heart in 2011, and I have been baking cakes since then.  History was always favourite subject, and to be able to take part in a cake collaboration with the most beautiful theme, such as Downton Abbey, was a true honour.  Making sugar dresses is something very dear to me.  In 2014, I created collection of dresses called "Magical world of marzipan fashion", showing dresses from the Stoneage to the present, for the Museum of chocolate and marzipan in Tabor, Czech republic.
Here is Michaela's description of her Superb cake:
A Little Bit About My Cake: It was hard to choose which costume to depict for this collaboration. I was most excited about Lady Mary's ruby red dress, and olive green dress of Lady Edith, not just because of their colour, but the texture, and noble look.  I therefore decided to incorporate both dresses into one art project. I truly enjoyed this work, and I greatly thank the organizers for inviting me. 
Since she's from the Czech Republic, here's a Czech description of her cake and some information about her.
Tvorit z cukrove hmoty mi ucarovalo v roce 2011, a od te doby se venuji peceni dortu.  Historie byla vzdy moji srdecni zalezitosti a podilet se na kolaboracii s tak krasnou tematikou, jakou je Downton Abbey, mi bylo cti. Tema odivani z cukru je mi blizke. V roce 2014 jsem vytvorila kolekci satu nazvanou "Kouzelny svet marcipanove mody", od praveku po soucasnost, pro Muzeum cokolady a marcipanu Tabor (link: www.muzeumcokoladyamarcipanu.cz ).  Bylo tezke rozhodnout se, ktery kostym ztvarnit… nejvice ze vsech mne nadchly vinove saty Mary a olivove Edith, pro jejich barvu, texturu, no blesu. Rozhodla jsem se proto zakomponovat oba kostymy do jednoho umeleckeho projektu . Velmi jsem si to uzila a timto srdecne dekuji za pozvani.