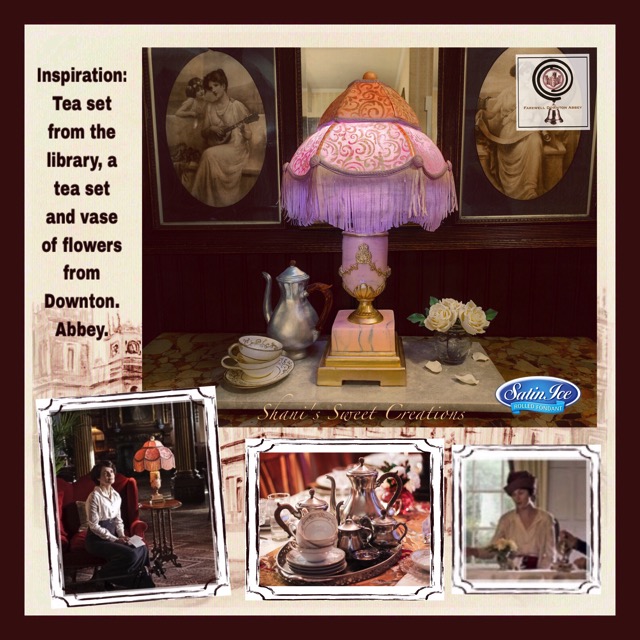 This Magnificent Downton Abbey Cake inspired by a lamp, tea set, and vase was made for the Downton Abbey Themed Cake Collaboration – A Sweet Farewell To Downton.
This Magnificent cake was made by Shani Christenson from Shani's sweet Creations.
Here is Shani's bio:
Shani's Sweet Creations started with my love for making delicious treats combined with my obsessive need to be creative and make beautiful things. I am a self taught cake artist creating custom cakes and desserts in Mendocino on the beautiful northern coast of California.
I love learning and growing. I try to push my creativity each and every time I create. I find myself constantly thinking how I can recreate something beautiful or interesting into a unique design. I find inspiration in many places, from the beauty in nature, a piece of vintage jewelry, a beautifully textured fabric, an elegant wedding invitation. Inspiration is everywhere.
My Motto:
Life is Sweet
Here is Shani's description of her Magnificent cake:
Cake Inspiration:
~ Victorian Table Lamp
~ Tea Set
~ Vase of White Roses
When I was invited to make a cake for this collaboration I had never seen a single episode of Downton Abbey. But it was my mom's favorite show and she was always raving about it. I am so glad I got invited! Of course I had to go watch the show to see what it was all about and pick my inspiration. I immediately fell in love with the show and couldn't stop binge watching it! I think being an artist you are just drawn to things that are visually interesting and different than what you may see in our everyday modern world. This show drew me in with the spectacular settings, the beautifully artistic clothing, the ornate Victorian architecture and lavish furnishings. What a treat to have all this to draw artistic inspiration from! I knew almost immediately that I wanted to do a lamp. I have always loved beautiful vintage lamps and was particularly drawn to the ones with beautiful silk shades and lots of fringe. The one I chose to re-create had a beautiful pink damask silk shade and fringe on a pink marble and brass base. This lovely lamp was shown mostly in the first season and caught my eye immediately. As I continued to watch the show I wavered on my choice because I thought it would be so much fun to create a tea set, but then I also loved the image in the opening credits of the vase of white roses and crystal. In the end I just couldn't give up on the lamp idea so i decide to incorporate all three inspirations on my cake. When I re-created this lamp I wanted to feature the beautiful fabric and fringe, I also wanted it to have a real light on the inside so it really looked like a lamp lit up. I used a new product called Flexique to make an edible fabric to cover the shade and make the fringe. It is so wonderfully supple and pliable, prefect to cover the framework of the bottom portion of the shade and let the light through. The top portion of the shade is cake. The marble and brass base is cake covered in Satin Ice fondant and modeling chocolate mix and finished with gold highlighter and a corn syrup and ever clear mixture to get the high gloss polish like real marble. The teapot is rice cereal treats covered in Satin Ice fondant/modeling chocolate mix and the teacups and roses are Satin Ic gum paste. Finally, I wanted to have a authentic setting for the photo and luckily my tiny hometown of Mendocino California is a beautiful little historic Victorian village and one of our main hotels looks like it came right out of Downton Abby. Perfect for my photo background. We chose this lovely antique buffet and mirror for our setting and gave the photo a vintage feel. I really enjoyed creating this unique cake in celebration of the final season of Downton Abbey. I love everything about the show and could could create endless numbers of cakes using beautiful visual inspirations from the show.