This Splendid Downton Abbey Cake inspired by Lady Mary's dress was made for the Downton Abbey Themed Cake Collaboration – A Sweet Farewell To Downton.
This Splendid cake was made by Rebekah Naomi Wilbur from Rebekah Naomi Cake Design.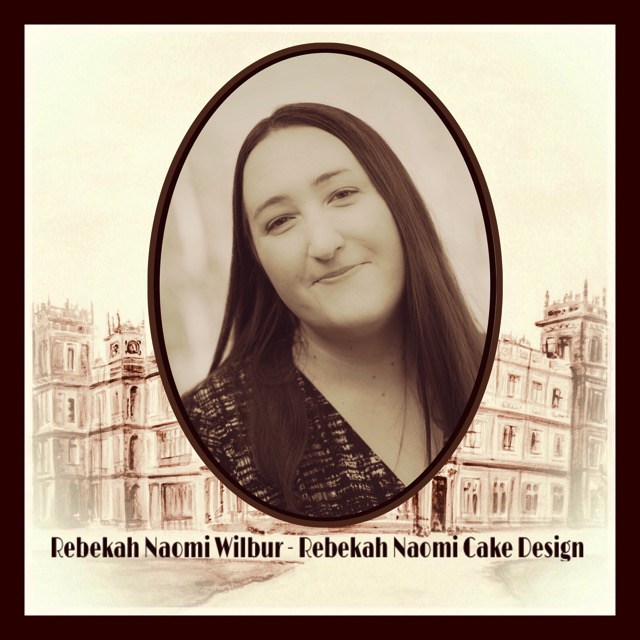 Here is Rebekah's bio:
Hi, I am Rebekah, a British expat. I relocated to the US nine years ago. After the birth of my first child, Esme, I started making celebration cakes for her birthday and later, my son and then friends and family.I realized I had a real passion for cake decorating, having previously worked as a musician and a keen artist, cake decorating provided a wonderful opportunity to be creative and artistic. I taught myself to decorate, using online tutorials and you tube videos..In time I turned away from emulating other cake designs and started to create my own unique designs- taking inspiration from fashion, architecture, art and fabrics. I opened my first cake business "Cakelicious" in 2013, later transforming the business into Rebekah Naomi Cake Design, a boutique cakery specializing in one-of-a-kind wedding cakes. This year I was awarded with the title "Satin Ice Artist of Excellent". I now teach cake decorating, both online and in live classes.
Here is Rebekah's description of her Splendid cake:
I am a huge fan of the Downton Abbey series produced by the BBC in the UK. I especially love the Edwardian fashions of the early series. I decided to create a 'new spin' on the well known "hatbox" cake design. I also created a woven wafer paper sun hat, using inspiration from the fashions in the series. The hat is made entirely from wafer paper, braided together to form a long plait and then secured together over a mold and manipulated into a hat shape. It was colored after construction using a combination of yellow and brown gel food colors and a coffee/olive oil mixture. The hat also features large wafer paper garden roses.
Each hat box is an individual cake tier; first covered with fondant and then overlayed with printed wafer paper. The tiers are supported using a large internal structure. The hat boxes were aged in a similar fashion to the hat, by steeping coffee in hot olive oil and brushing it on in the same way tea and coffee is traditionally used to age paper. I added printed wafer paper luggage labels and ruffled wafer paper between the boxes. The lids are simply foam separators, that have been covered in fondant and then wafer paper and secured to the main structure by threading them over a large central dowel.Overall, I wanted to give the illusion that these were real hat boxes stacked on top of one another, supporting a real straw hat. The color schemes were taken from the fashions of the show, there is a scene featuring the ladies of the house in the garden. They are wearing casual daywear, with striped dresses, floral patterns and straw hats. Additionally there was a scene in the show featuring large hatboxes after the ladies of the house had conducted a shopping spree, buying new fashions, all beautifully packaged in oversized hat box.