Since Batman v Superman: Dawn of Justice comes out this evening, I thought it was the perfect time to look at some amazing Batman and Superman sweets. This stunning Batman Cake was made by Fancy Cakes By Lauren. My favorite part of this cake is the texture of Batman's cape and cowl; they look like they're made out of cloth.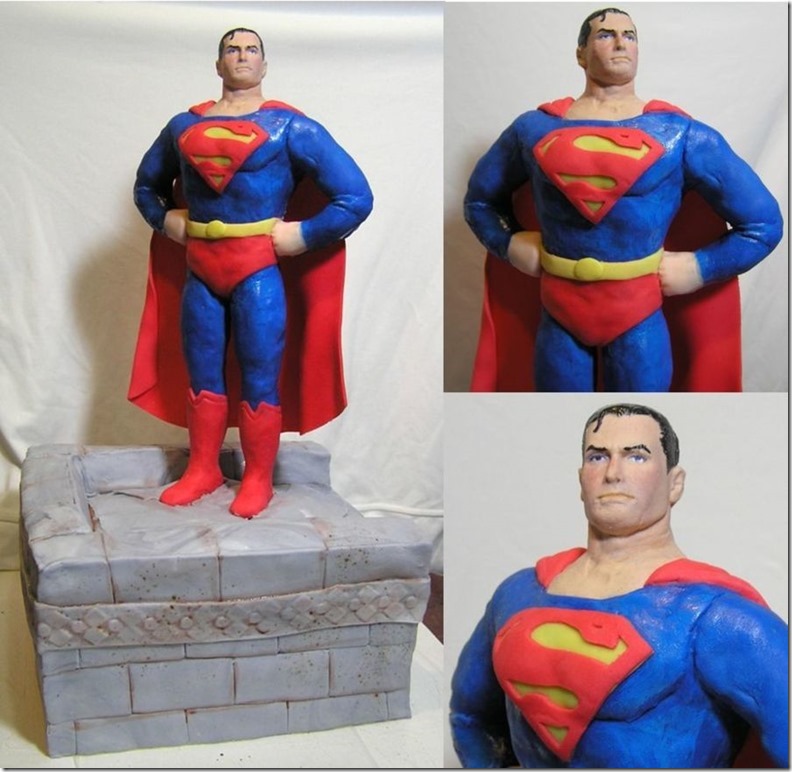 This marvelous Superman Cake was made by Cake Central Member Spense. The sculpted figure of Superman is amazing!
This stunning Princess Belle and Batman Wedding Cake Topper was made by Sophie Cartier Studios. Belle looks beautiful in her wedding gown with her matching blue shoes and hair ribbon. Having Belle holding a book written by Bob Kane, Batman's co-creator, is a fantastic touch. I love how Batman's shirt is unbuttoned so that you can see his costume underneath.
These terrific Batman Cupcakes were made by Hundred and Thousands Cupcakes. They feature Batman's cowl and the Bat-Signal.
This cute Superman 1st Birthday Cake was made by Just A Simple Cake by Mommy Sue. The figure of Superman is adorable. The top layer is red with Superman's emblem on it. The bottom layer looks like Metropolis at night. The cake's primary colors are red, blue, and yellow which are also the colors of Superman's costume.
This elegant Gold Batman Silhouette Cake was made by Kickshaw Cakes. This gold Batman silhouette looks great against the black cake background.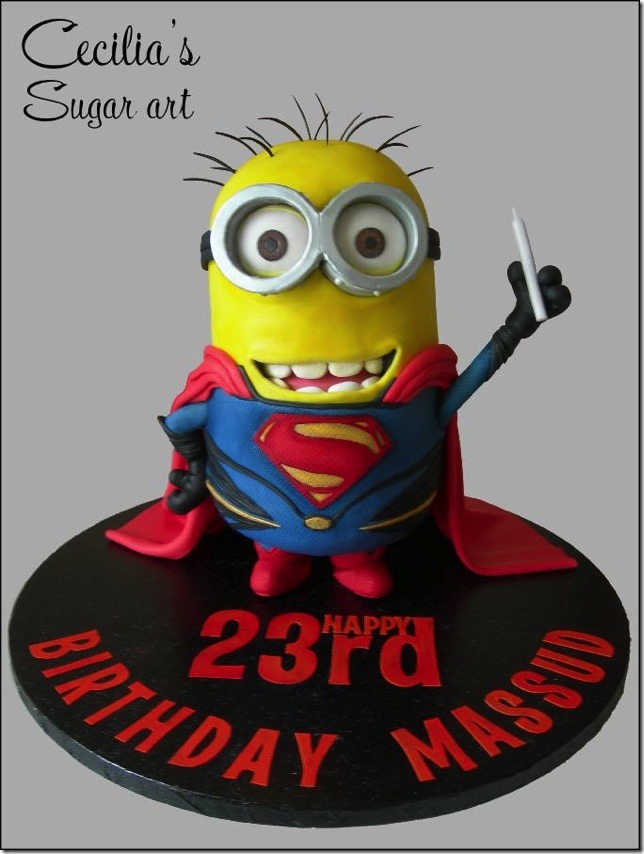 This adorable Superman Minion Cake was made by Cecilia's Custom Sugar Art. Superman's primary colors are red, blue, and yellow.
0; Since the Minion is yellow, he is the perfect choice for a Superman mashup.
Everything is awesome about this LEGO Batman Cake made by Mike's Amazing Cakes.
These great Superman Cookies were made by Oh Sugar Events. They feature Superman, his symbol, a bridge in front of the Metropolis cityscape, and lit bombs.
This great Batman 5th Birthday Cake was made by Pink Cake Box. It is a topsy turvy cake with black and white comic book panels on the bottom layer.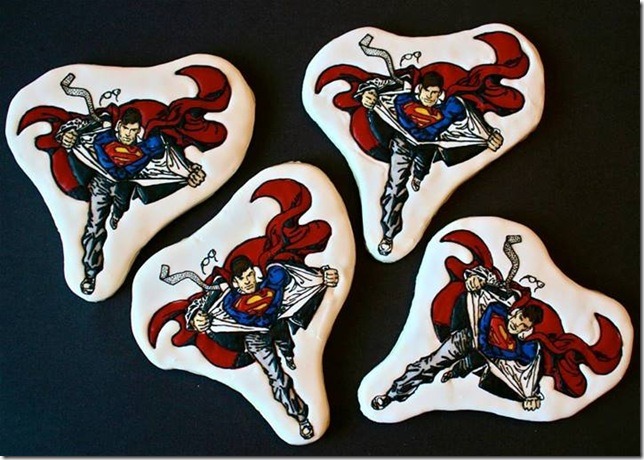 These superb Superman Cookies were made by Craft Me A Cookie. They feature Superman tearing off his outer clothes. I love how Clark Kent's glasses are just flying off behind Superman. They must be made out of some indestructible material.
This great Batman Cake was made by Lori's Custom Cakes. It is a two layer cake. The bottom layer is grey with Batman's chest emblem. Wrapped around this layer is Batman's utility belt. The second layer is the Gotham cityscape at night.
Some of my friends from Super-Blog Team-Up have also done special posts: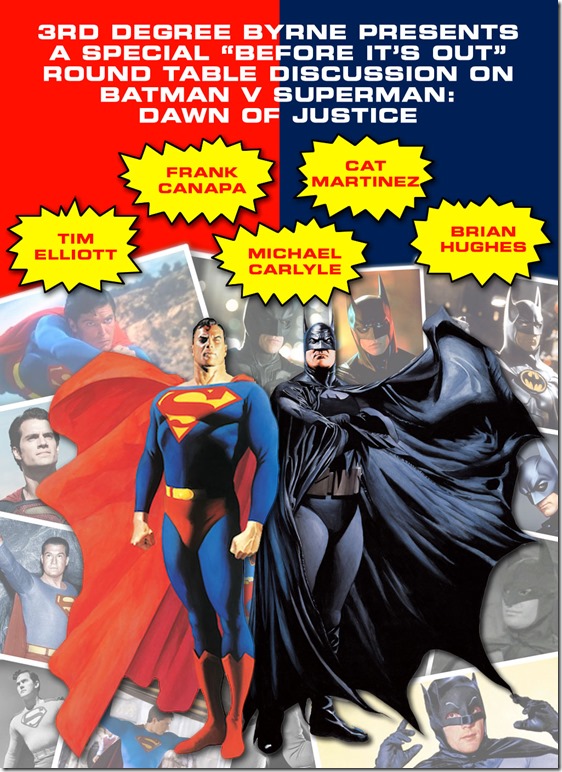 Michael Carlyle (aka The Son of Cthulhu) was on the podcast 3rd Degree Byrne's Batman v Superman episode.
Over on his blog, The Crapbox of Son Of Cthulhu, Michael reviewed Batman vs. Superman's Silver Age Smackdowns.
Dean Compton (cohost of the amazing radio show Her Dork World, His Dork World) has been busy over on his blog, The Unspoken Decade, spotlighting the Punisher in a series of posts with the great name Six Weeks of Punishment. So he hasn't written anything
new about Batman vs. Superman, but he has covered them twice in the past. The post Godkillers: Doomsday & Bane reviews the classic stories Death of Superman and Batman: Nightfall. In the post 5 Batmen, 1 Superman, Zero Hour!, Dean looked a time where Superman met 5 different version of Batman during Zero Hour: Crisis in Time.
Paul O'Connor (writer of the webcomic 4 SecOnds) has written a special post on his blog, Longbox Graveyard, that looks at every post he has ever written about either Batman or Superman.
Check out more terrific Batman Cakes
and more Superman Cakes.
Here's more LEGO Batman Cakes