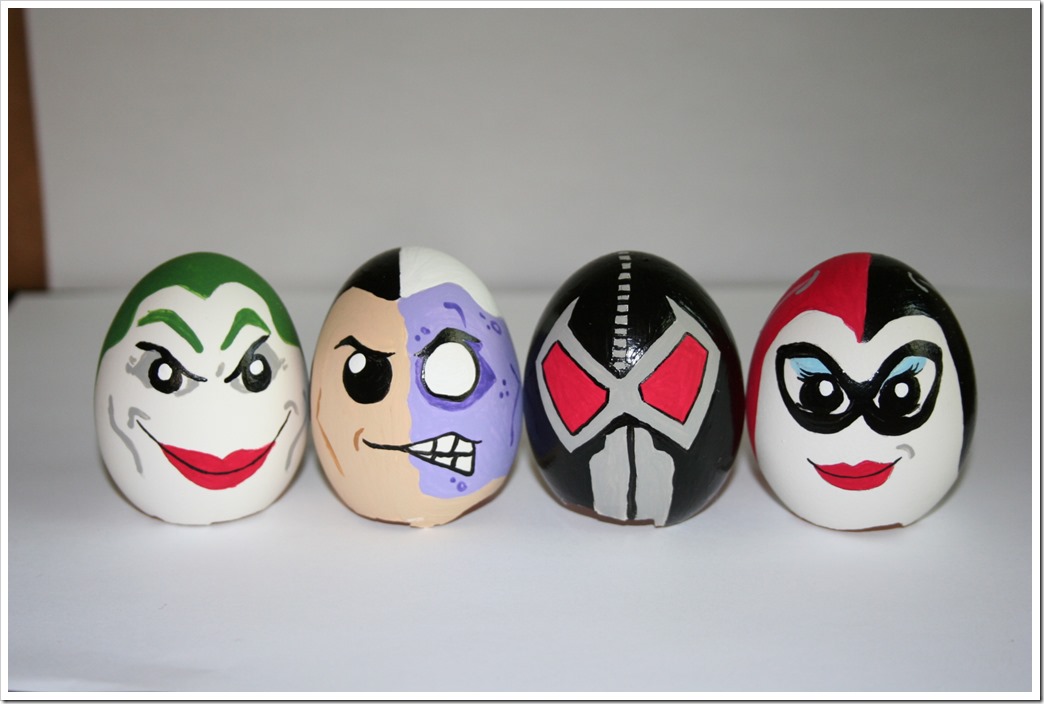 I've been binge watching the original Batman TV show with Adam West and Burt Ward. It is a lot of fun and ranks as my 2nd favorite Batman of all time. My favorite without a doubt is Batman: The Animated Series, so I had a big grin when I discovered these eggs. These wonderful Batman: The Animated Series Easter Eggs were made by Renata Rossato. The eggs feature The Joker, Two-Face, Bane, and Harley Quinn. Renata did a great job painting these awesome eggs.
Of these four villains, the Joker and Harley Quinn were my favorite on B:TAS. Mark Hamill provided the voice for The Joker and he did an amazing job. Harley Quinn was only supposed to appear in one episode, but she was so beloved that she was brought back and became one of Batman's most popular villains. I'd have to go back and see if she ended up appearing in more episodes with the Joker or Poison Ivy. Harley had great chemistry with both characters. Two-Face had some great stories, but my favorite was the final episode – "Judgment Day" which also featured Killer Croc, The Riddler, and The Penguin.
Cool piece of trivia: Did you know that Two-Face was supposed to appear on Adam West's Batman TV show? Someone higher up decided that Two-Face was too freighting for kids, so the planned episode was never filmed. It is a shame because the episode was written by the legendary Harlan Ellison. Who'd they get to play Two-Face? A little know actor just starting out in Hollywood called Clint Eastwood. DC Comics recently adapted this lost episode in the graphic novel – Batman '66: The Lost Episode.