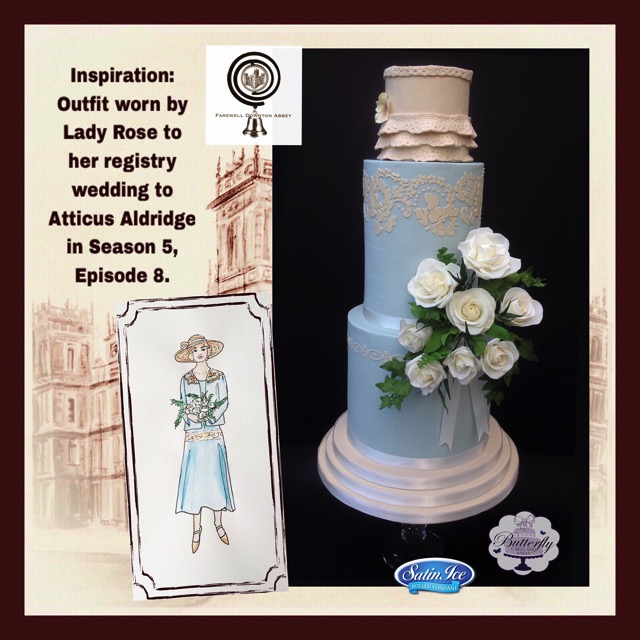 This Marvelous Downton Abbey Cake inspired by Lady Rose's Blue Dress was made for the Downton Abbey Themed Cake Collaboration – A Sweet Farewell To Downton.
This Marvelous cake was made by Karen Blackwell from Butterfly Cakes and Bakes.
Here is Karen's bio:
One Boxing Day a few years ago I seemed to think it a good idea to volunteer to make my niece's birthday cake. Just over 2 months later that very cake was my first attempt at decorating and I became totally hooked on this craft. Whilst still working full time for a UK based hotel company,I decided to formalise this hobby of mine. Butterfly Cakes and Bakes was born in 2014. I very quickly realised that my passion was for making sugar flowers. I continue in my quest to learn to make them as realistically as possible drawing inspiration from real flowers and plants. I was over the moon to receive gold and bronze awards in the floral sugar craft category at Cake International Birmingham 2015 – my first time of entering.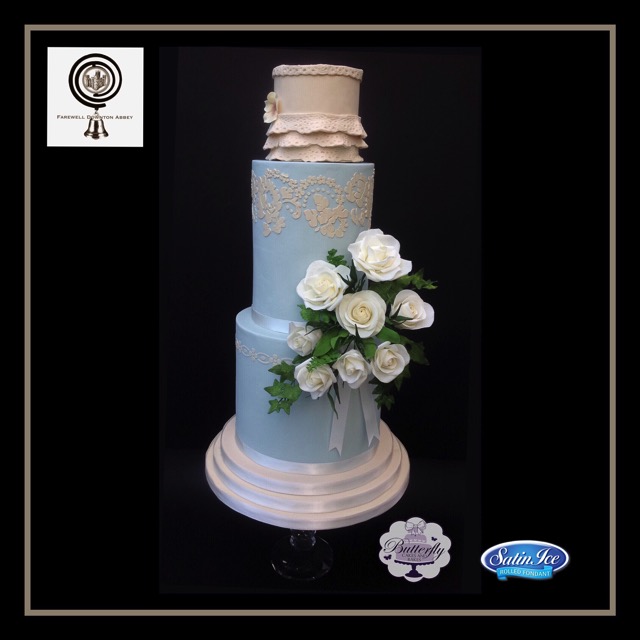 Here is Karen's description of her Marvelous cake:
When searching for my inspiration I looked at the many gorgeous, flamboyant floral arrangements throughout all the series. Time and time again though, I kept getting drawn back to the beautiful simplicity of the outfit worn by Lady Rose MacClare (played by actress Lily James) for her registry office wedding to Atticus Aldridge. Of course I had to include her stunning bouquet!