This Splendid Alice In Wonderland White Rabbit Cake was made by Emma Jayne Cake Design. The cake board has a woodgrain pattern. On the cake board is a key, two other keys, a keyhole. and a white rose with pink accents. An Ace of Hearts and a Six of Hearts is partially stuck in the cake board.
There are light pink flowers with white stems and leaves on the side of the bottom layer of the blue cake.
Above the rose is a light pink butterfly. A blue bow is above that. The 10/6 card from the Mad Hatter's hat is just above the blue bow.
The top layer of the cake is pink. The White Rabbit's silver pocket watch and chain is on the side of the cake. A white doily is draped over the top of the cake.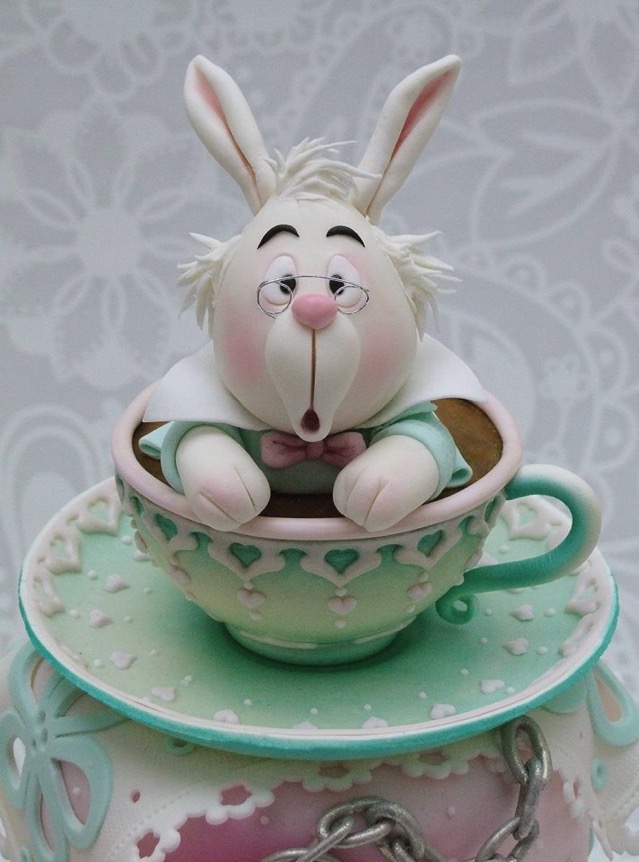 At the top of the cake is a blue and white teacup and saucer. There is a white and pink heart pattern on the cup and saucer. The White Rabbit is popping out of the teacup. He is surrounded by brown tea. The White Rabbit has a surprised look on his face. He is wearing glasses, and blue jacket, white collar, and a pink bow.
A close-up of the White Rabbit's pocket watch and the 10/6 card from the Mad Hatter's hat.