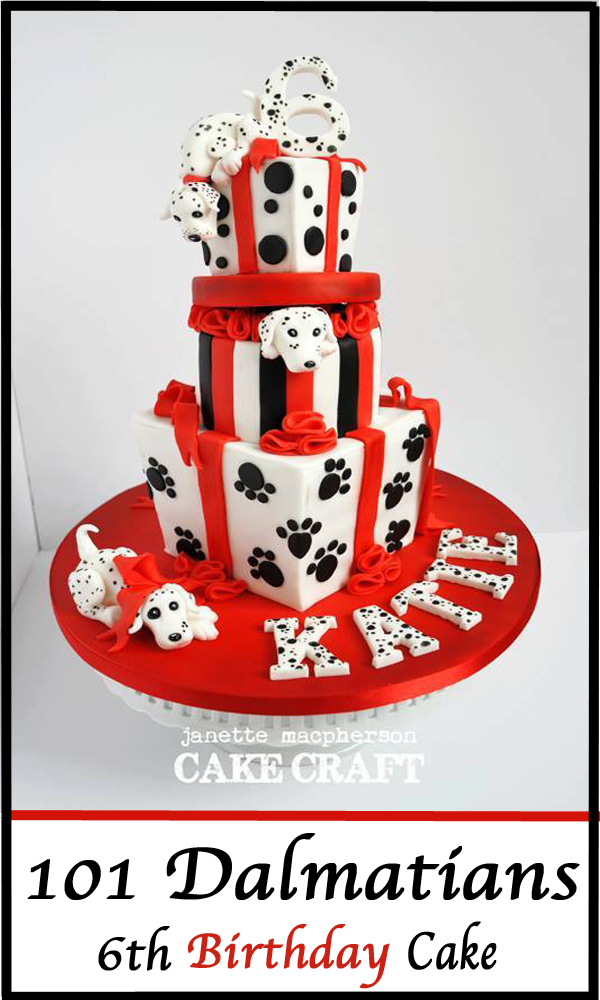 This Marvelous 101 Dalmatians 6th Birthday Cake was made by Janette McPherson Cake Craft.
All of the numbers and letters on the cake are white with black spots to match the Dalmatians. The cake board is red. The birthday name is spelled out on the cake board and the is a matching Dalmatian beside it.
The cake looks like a stacked box of birthday presents. The bottom cake layer is a white box the is white is black dog footprints and red ribbons. The are red flowers on top of the box.
The middle cake layer is a round box with black, reds and white vertical stripes. It has a red to and has red tissue paper stickup out of the box. A Dalmatian is also sticking its head out of this box.
The top layer of the cake is a white box with black spots and red ribbon. There is a six on top of the box for the birthday age. Beside the six, a Dalmatian is crawling down the side of the box.
The use of color on this cake is wonderful.