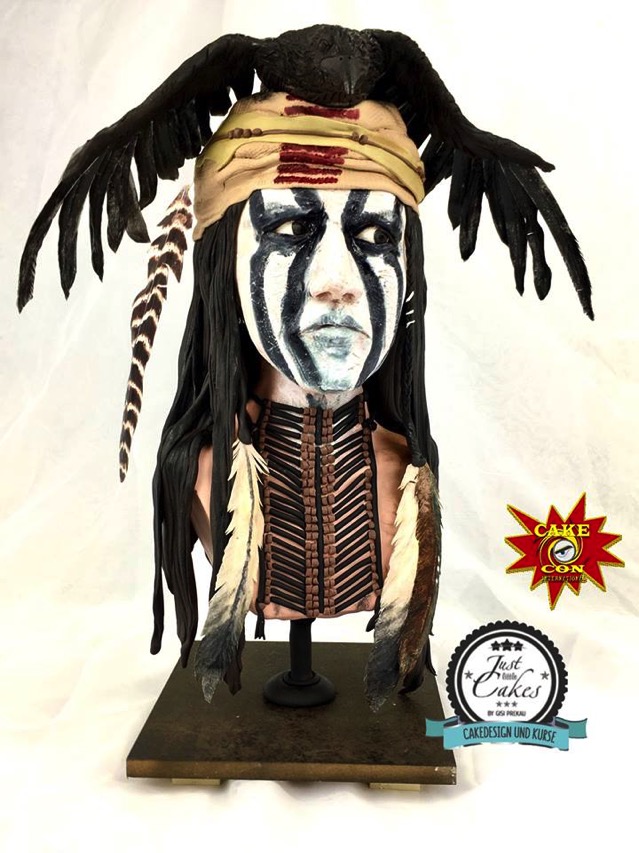 This Marvelous Tonto Cake was made by Gisi Prekau of Just Little Cakes.
This splendid cake was made for the Cake Con Collaboration. Cake Con is a collaboration featuring amazing artists who have created sugar art inspired by TV series, comics & video game characters.
Here is Gisi's description of this Amazing cake:
Tonto is a 3D cake bust 40 cm high. With an internal structure out of threaded rod and a skull straight out of chocolate. ( I used a skull molde made by my own) His head is made with modelling chocolate and covered with royal icing, then painted with color paste. His hair is made with fondant and the raven is made with a body out of black modelling chocolate. The wings and feathers are made with waferpaper. and painted with cocobutter and pedal dust.
This Amazing Tonto Cake looks incredibly like a real person! It is based on the Johnny Depp version of Tonto from the 2013 Disney movie The Lone Ranger.