This Splendid Purple Barbie Designer Wedding Cake was made by Emilia Calvo from Delicut Cakes.
This Fabulous Barbie Designer Wedding Cake was made for the Wedding Cakes Inspired By Fashion A Worldwide Collaboration which is a cake collaboration where cake artists have created wedding cakes inspired by Barbie Doll designers such as Magia 200 Italy Designer Duo Mario Paglimo and Gianni Grossi, Bill Greening, Bob Mackie, Eaki, Krikor Jobotian, Alex Blas, Ovaz Designs, and others.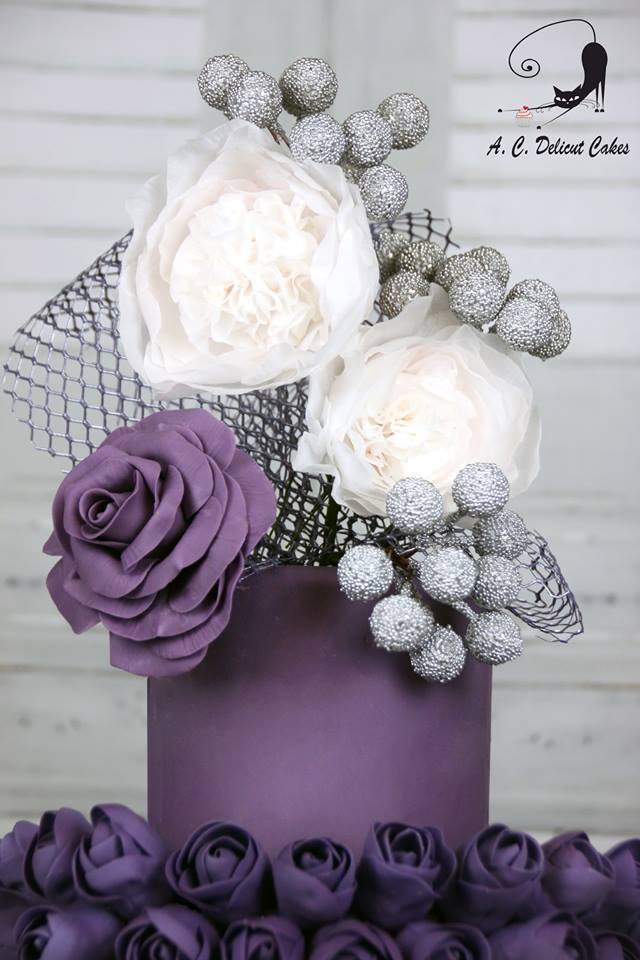 Here is Emilia's description of this Wonderful cake:
My inspiration was by designer Eaki. I chose Barbie's purple outfit as my inspiration since I love flowers and purple has been my favorite color ever since I was 5. I find that this style has also a feel of the 60's and 70's which are the decades that forged my love of art as they were so amazing in their diversity and styles. In order to carry out my creation, I have used a variety of materials, for the Austin Roses, I have used white wafer paper, which is a medium I love to explore. I tinted Claire Bowman's fishnet Cakelace purple for the half ribbon on the back of the bouquet. I used Satin Ice gumpaste for the rosettes tinted with Wilton purple gel and Sunflower lilac power. The large purple rose was made with Saracino lilac Pasta Model sugar paste mixed wth Funcakes purple fondant. Lastly, the silver balls were made of gumpaste covered in silver nonpareils and retouched with Rolkem silver to give it more lustre. I thoroughly enjoyed making all the rosettes as for me, making flowers is very relaxing.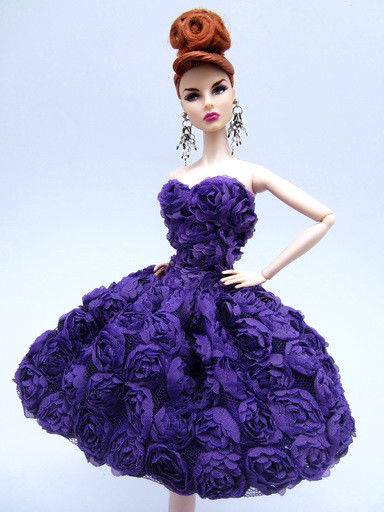 Barbie doll with purple dress designer by Eaki.