Heba Elalfy from Sweet Dreams by Heba sent me this tutorial on how to make a Kanzashi flower from fondant.
Here's a picture of this Kanzashi-style flower on Heba's Amazing cake.
You will need:
Fondant – yellow and black
2 inch circular cutter
4 or 5 inch circular cutter
Rolling pin for fondant
X-Acto knife
Flexique glue
Toothpicks
Sanding sugar – yellow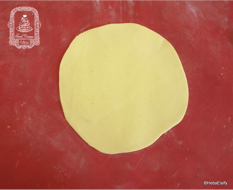 Step 1: Roll out the fondant to 2mm thickness.
Step 2: Use circular cutter to cut out 6 circles. 2" cutter used here. The size of the cutter determines the size of petals.

Step 3: Lightly pinch one side of the fondant circle to create a crease as shown – don't pinch too tightly.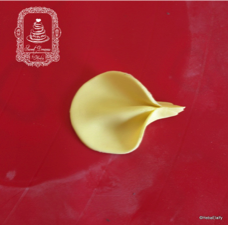 Step 4: Fold over sides along crease (Step 3) to create a double fold as shown and secure them.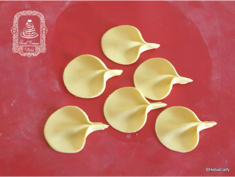 Step 5: All your petals should look like these. Leave them to dry for about one hour .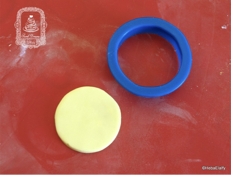 Step 6: Use a circular cutter to cut out a base about 4"-5" diameter and about 3mm-4mm thickness. (measurements can vary, it's your choice).

Step 7: Use an X-Acto knife, or similar, to trim extra length of fondant and pinch the end flat.
Step 8: Gently curl the top edge of each circle as shown.

Step 9: Use Flexique glue to attach the fondant petals to the base as shown. Leave to set overnight
Step 10: Create a black fondant ball, which will be the center of the flower. It should be 1 – 1.5 inches in size.
Step 11: Push your thumb into the center of the black ball to create a dome and lightly wet the rim and place on top of the flat circular disc from Step 9.
Step 12: Position the 'center' inverted onto the flat circular disc from Step 9, as shown. Wet the top of the dome with water or Flexique glue and cover with sanding sugar.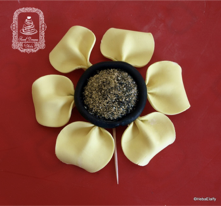 Step 13: Roll out a thin black 'noodle' to overlap the petals edges and insert a toothpick through the yellow circular base from Step 6.
Step 14: Leave to dry/set for 24 hours before moving.
Heba's Kanzashi flower sits on top of this Beautiful gold and black cake she created on September 2017.
Another Kanzashi-style flower Heba created.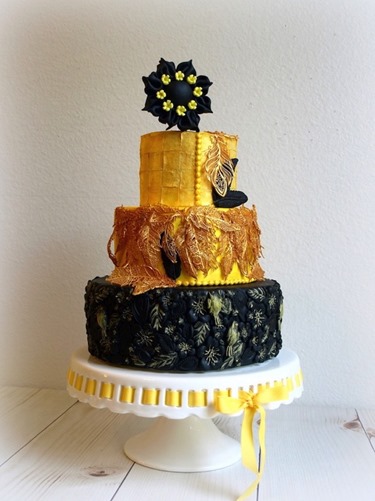 This cake was one of the Fabulous Couture Cakes that I featured earlier to spotlight the Couture Cakers Sugar Art Collaboration.
I would like to say a big THANK YOU! to Heba Elalfy from Sweet Dreams by Heba for sharing this tutorial with us.