These Terrific Little Mermaid 2nd Birthday cookies were made by You Can Call Me Sweetie.
A lucky little princess got to have these wonderful Little Mermaid cookies for her 2nd birthday.
Ariel is in the center of the cookies. She is on an aqua-blue cookie with her portrait in the middle. She is smiling.
A tiara fit for an underwater princess is above Ariel. It is a blue cookie shaped as a crown with a purple sea shell in the center. There are light blue decorations on the tiara cookie.
A round cookie has a smiling Flounder and another cookie has Sebastian the crab. These are on either side of Ariel.
A blue and purple seashell cookie has golden sand and pearls on it. A number two cookie has a golden flower on it. It has a scaly pattern like a sea creature.
The cookie below the Little Mermaid is shaped like a seashell and has golden trim and says The Little Mermaid Emily.
A golden trident cookie has an aquamarine background.
These hand-painted cookies are gorgeous.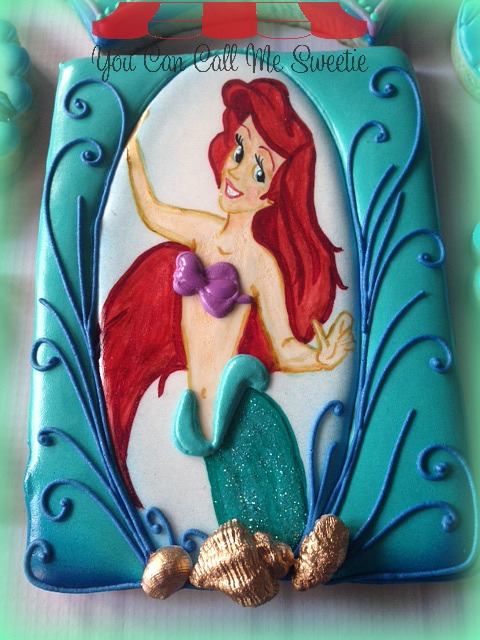 Ariel's clothes are 3-D and so are the golden seashells at the bottom of the cookie frame.
Also, check out these wonderfulLittle Mermaid Cakes and Cookies with Ariel and Flounder and others.