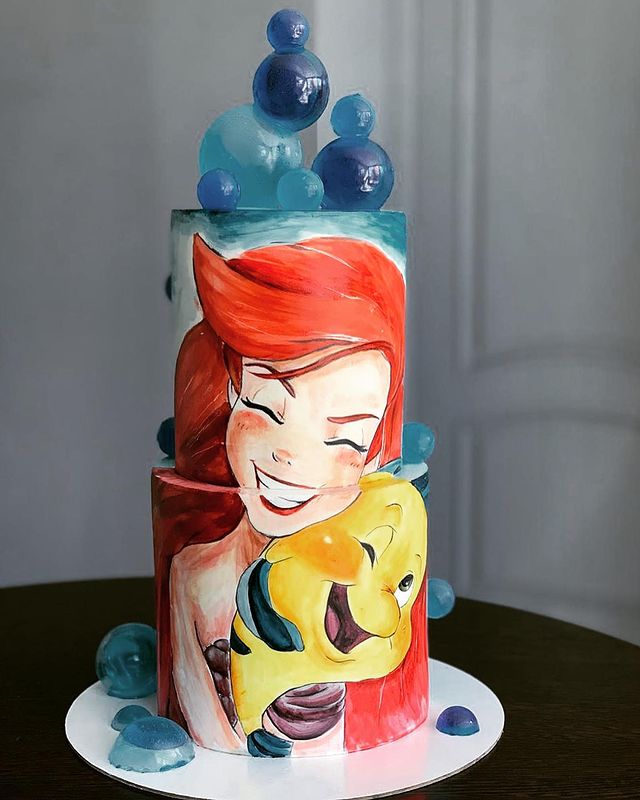 Splendid Hand-Painted Ariel & Flounder Cake
This Splendid Hand-Painted Ariel & Flounder Cake features a painting of them that spans both tiers of the cake.
This wonderful cake was made by Amirova Valeria.
I like the way this cake artist uses the entire cake as a canvas for these characters from Disney's The Little Mermaid.
Firstly, Ariel's smiling face takes up all of the top tier and part of the bottom tier. The cake tiers are no more than 1 inch different so the small part of cake showing on top is also painted as part of Ariel's face.
Secondly, Flounder takes up most of the bottom tier. He is surrounded by Ariel and her red hair.
Thirdly, I love the smiles on the faces of Ariel and Flounder as she hugs him. Since the picture takes up 2 tiers, the focal point of the cake is these smiles.
Fourthly, the rest of the cake is painted dark blue to represent the ocean. Also a tiny white highlight separates Ariel and the ocean.
Fifthly, blue isomalt bubbles make a cake topper. In addition, more bubbles are on the cake board and the other tiers to compliment the cake topper. Also all the blue are used to frame and focus attention on Ariel and Flounder.
Also, check out these wonderful Little Mermaid Cakes and Cookies.