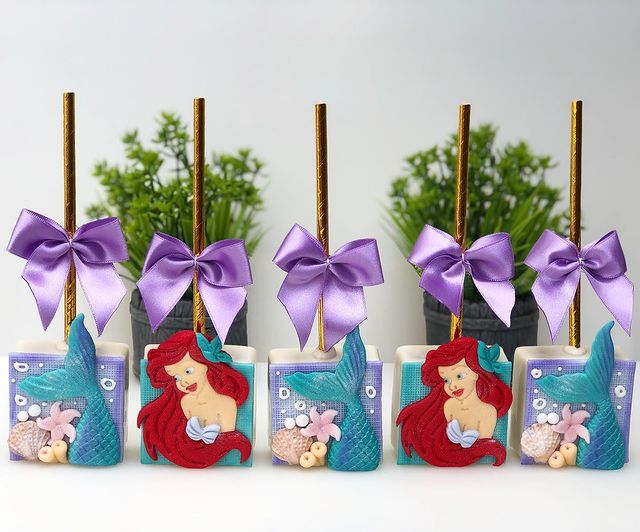 Terrific Mini Little Mermaid Cakes
Welcome to Little Mermaid Week! For the next seven days, I will be featuring Princess Ariel and her finny friends in honor of my friends, Ruth and Darrin because they are huge fans of the Little Mermaid.
Check out Ruth and Darrin podcast RaD Adventures Network. Their three best known podcasts focus on the popular comic book creators – Mike Grell, Ron Randall, and Mark Schultz.
These terrific mini Little Mermaid cakes feature Ariel.
These wonderful cakes were made by Lili Festa.
I really like these mini cakes.
Firstly, when you first look at these, you are drawn to Ariel's face. Her face and hair were probably made using fondant pieces and are in front of a cake square. This gives a somewhat 3-D effect. Her eyes are terrific and she has a nice smile on her face.
Secondly, the colors are complimentary. The blue behind Ariel matches the blue of her fin. Also, the purple behind the fin matches the purple of the ribbons.
Thirdly, the cakes are a square shaped. They were probably covered in white chocolate to make them have such nice corners and edges.
In addition, the front side is covered by a square piece of fondant to make them look even more like perfect squares.
Fourthly, Ariel's tail is made of fondant and placed in front of the square. There are seashells and coral beside the tail. It makes a nice contrast to alternate between these and the ones with her face.
Fifthly, these mini Little Mermaid cakes look a lot like upside-down cake pops. The sticks and the bows give them an festive elegance.