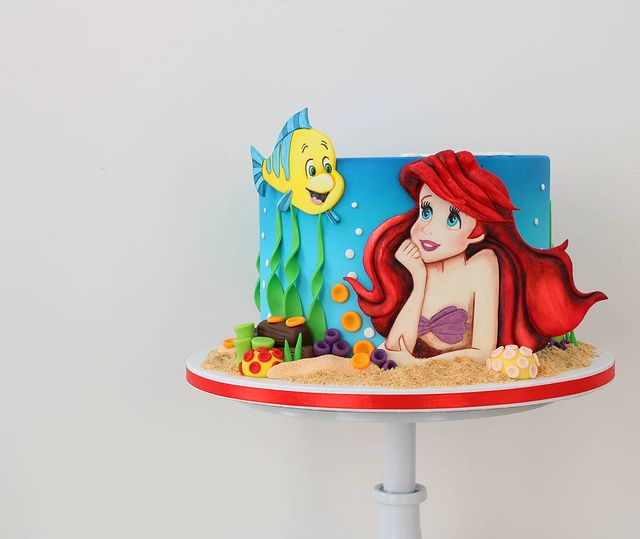 Ariel and Flounder Cake
This Adorable Ariel and Flounder Cake is a single tier cake that is blue to represent the ocean.
This wonderful cake was made by Vanilicans.
This cake has some really nice features.
Firstly, as soon as you see the cake, your eyes are drawn to Ariel and then to Flounder.
Secondly, Ariel has a dreamy look in her eye. I can just imagine her daydreaming about wanting to go where the people are and be part of that world. I can just imagine her singing:
Part of Your World
I want more
I wanna be where the people are
I wanna see, wanna see them dancing
Walking around on those
What do you call 'em?
Oh, feet
Flipping your fins you don't get too far
Legs are required for jumping, dancing
Strolling along down a-
What's that word again?
Street?
Up where they walk, up where they run
Up where they stay all day in the sun
Wandering free
Wish I could be part of that world
What would I give if I could live
Out of these waters?
What would I pay to spend a day
Warm on the sand?
Betcha' on land, they understand
Bet they don't reprimand their daughters
Bright young women, sick of swimming
Ready to stand
I'm ready to know what the people know
Ask 'em my questions
And get some answers
What's a fire and why does it-
What's the word?
Burn?
When's it my turn?
Wouldn't I love, love to explore that shore up above
Out of the sea
Wish I could be
Part of that world
Thirdly, Flounder and Ariel are two dimensional characters that are drawn on fondant or gumpaste. I like the way her hair is made with extra pieces of fondant to make her look more three dimensional.
Fourthly, green sea plants and purple and yellow corals and the sand around the cake make the it look more like the ocean bottom. The plants and corals appear to be made using fondant.
Also, check out these wonderfulLittle Mermaid Cakes and Cookies.