Cute Disney Tsum Tsum Cake
This cute Disney Tsum Tsum cake features Mickey, Minnie, Pooh, and many other characters.
This wonderful cake was made by Von Cake.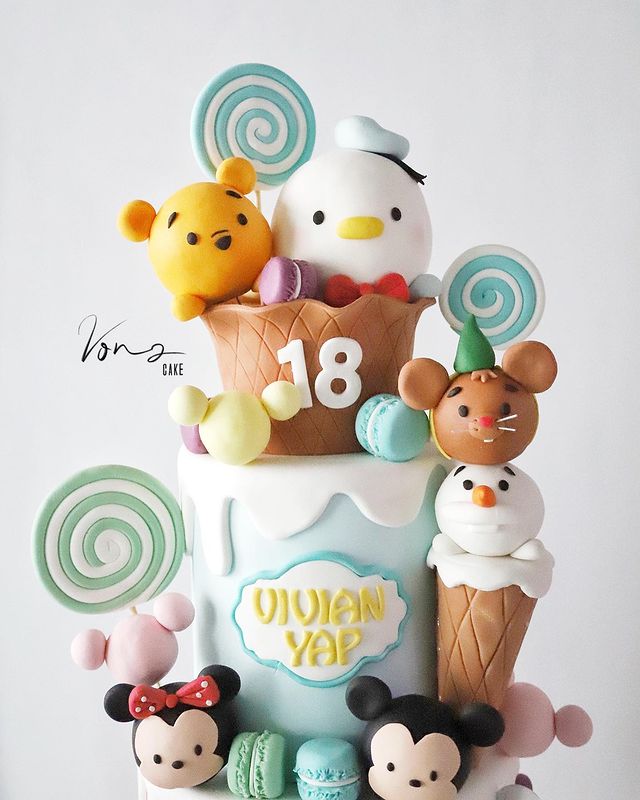 This cake has ice cream all around the Tsum Tsum characters.
Firstly, Winnie the Pooh and Donald Duck are inside a waffle ice cream bowl on the top of the cake. The number 18 on the side of the bowl represents the birthday age. A small yellow Mickey head is just beside the bowl.
Secondly, Olaf and Gus Gus are scoops in an ice cream cone beside the top tier of the cake.
Thirdly, the top tier of the cake is light blue with a white fondant snowy covering on top. Minnie and Mickey are at the base of the tier.
Fourthly the bottom tier is light pink with a white fondant snowy covering on top. An ice cream cone is beside the tier. An Ariel Tsum Tsum is in front of this tier. A Marie Tsum Tsum is beside her. A Flounder Tsum Tsum is beside Marie. A Sven Tsum Tsum is on top of a cupcake beside Ariel.
Fifthly, the round nature of the Tsum Tsums make them look a lot like ice cream scoops.