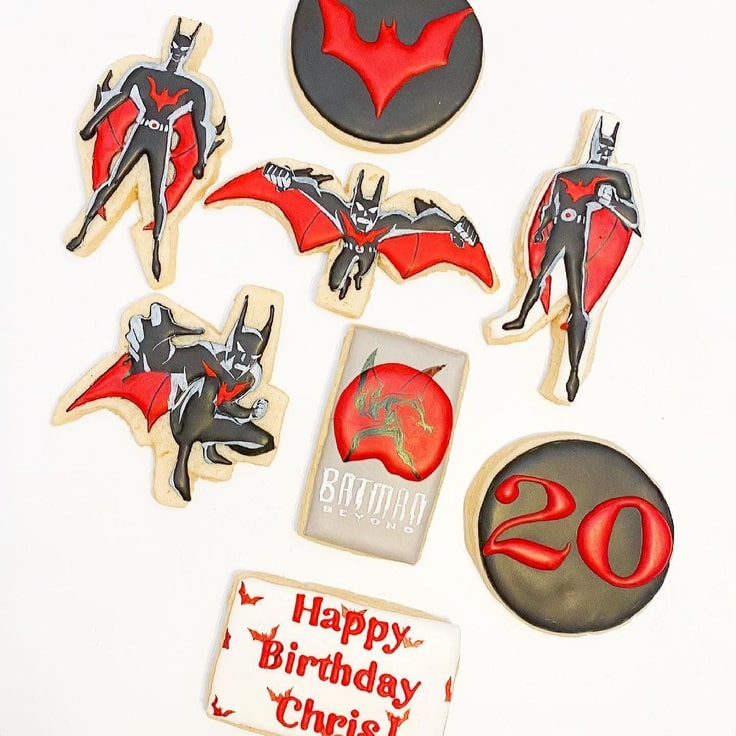 These wonderful Batman Beyond 20th Birthday Cookies were made by Sweet Miniis.
These cookies feature Batman in four different poses – his hands by his side, hunching down while reaching out, a side view and a really dynamic cookie where he is jumping towards you. There are also cookies of Batman's chest emblem and the series logo.
These are gorgeous cookies.
Batman Beyond was an animated series which ran for three seasons from 1999 until 2001. There were 52 episodes plus one movie – Batman Beyond: Return of the Joker.
The series takes place many years after Batman: The Animated Series. Bruce Wayne is too old to continue as Batman, so Terry McGinnis ends up becoming the new Batman. Bruce is in constant contact with Terry when he is in the costume. Even thought the show is called Batman Beyond, Terry is called Batman, not Batman Beyond.
One twist that I really like is that Commissioner Gordon is still over the Gotham City Police Department, but this Commissioner is Barbara Gordon (i.e. Batgirl) not Jim.
There is also a future version of the Justice League in a few episodes. This version eventually crosses over with Justice League Unlimited.
Batman Beyond launched a spin off – The Zeta Project which had 26 episodes. Unfortunately, I've only seen one episode of this series.
This version of Batman appears in two episodes of Justice League Unlimited and one episode of Static Shock. He has also appeared in many comic books. The latest Batman Beyond comic book series ended with issue #50 in December 2020. I've no doubt that he'll be featured in a DC comic again soon.
Looking for ideas for a Batman Party? Please visit our gallery of amazing Batman Cakes and Cookies.