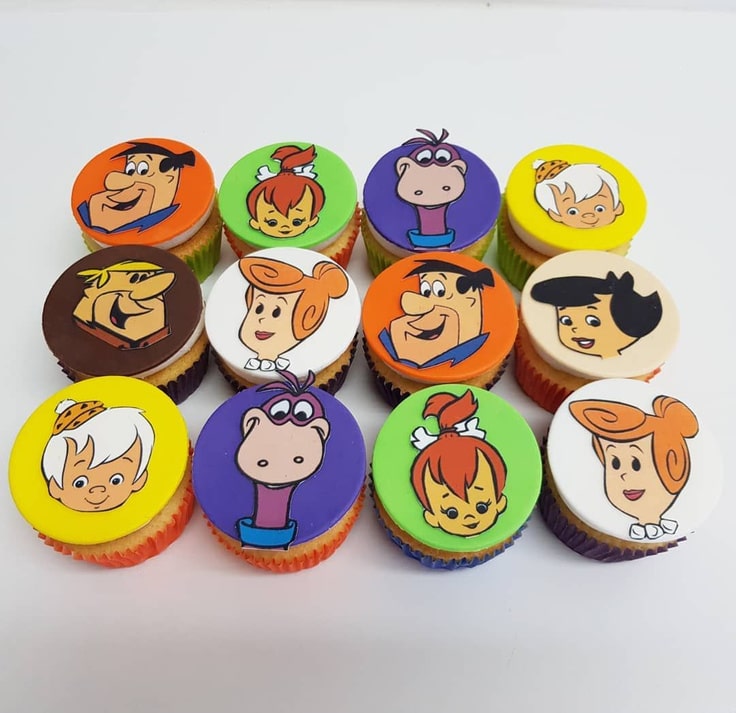 Flintstones Cupcakes
Happy Mother's Day!
These fantastic Flintstones Cupcakes were made by Perfectly Crafted.
They feature Fred, Wilma and Pebbles Flintstone, their pet Dino, and Barney, Betty and Bamm-Bamm Rubble. Each character looks perfect!
When I was a child, if the Flintstones were on TV, I was usually glued in front of the TV watching them. My favorite episodes are probably "The Hot Piano" where Fred purchases a stolen piano for Wilma as an anniversary gift and "Ann-Margrock Presents" which guest stars Ann-Margret and has an adorable lullaby.
The reason I picked these Flintstones Cupcakes for Mother's Day was because my favorite multi-episode storyline is when Wilma gives birth to Pebbles. Half way through the 3rd Season, Wilma tells Fred that she is going to have a baby. The next few episodes deal with them getting ready for the baby. On February 23, 1963, Pebbles Flintstone is born. The birth of Pebbles takes a great cartoon and makes it an even better. She is a wonderful character and her birth really leads to a lot of growth of Fred and Wilma's characters.
Pebble birth works out so well in the cartoon that less than a year later Betty and Barney Rubble adopt Bamm-Bamm.
These are some of my favorite cartoons and I thought they were a perfect focus for Mother's Day.
Planning a party for your baby Pebbles or Bamm-Bamm? Please visit our gallery of wonderful Flintstones Cakes, Cookies, and Cupcakes.