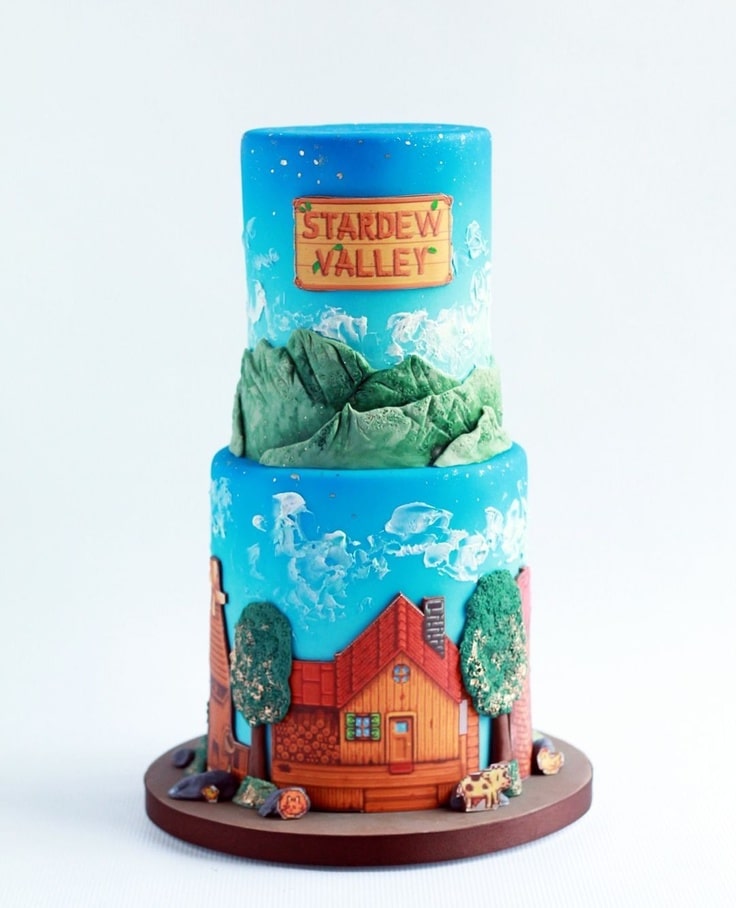 Stardew Valley Cake
Sweet Avenue Cakery made this wonderful Stardew Valley Cake.
This is a two tear cake. The top tier has the Stardew Valley logo, mountains and clouds. The bottom tier has the house, mill, silo, trees and animals.
When you launch Stardew Valley, you see the valley and clouds above it. That is quickly replaced with the Stardew Valley logo and the options to load an existing game or to create a new one. The top tier does a wonderful job of recreating those opening screens.
For most of the game, you are in one of three locations – your farm, Pelican Town or deep in a mine. The bottom tier of recreates your farm. It has your house, your mill (where you mill flour, rice and sugar) and your silo (where you store hay to feed your animals). There are also two trees and animals including a cow, chicken, and your cat.
If you've never played Stardew Valley, I highly recommend it. It is my favorite video game.
As you can probably tell from this terrific cake, the heart of Stardew Valley is a charming farming simulator. You plant crops and maintain them, raise animals and cook, fish and build stuff. When you get lonely or need supplies you go into Pelican town and interact with the people who live there. It is a extremely charming and relaxing game.
There are three things which really make this game exceptional. First, there are a lot of fantasy elements in this game. There are quests to complete, mines with monsters and treasures, and magical characters to interact with.
Second, there is no wrong way to play the game. Don't feel like farming? Skip it and spend a few seasons mining or fishing. Love farming? You can do nothing but farm and still have a wonderful time.
Third, the story and world evolves over time. Without spoiling anything, as you interact with the town and the people in it, they change because of your interaction.
Love video games? Check out these amazing cakes: