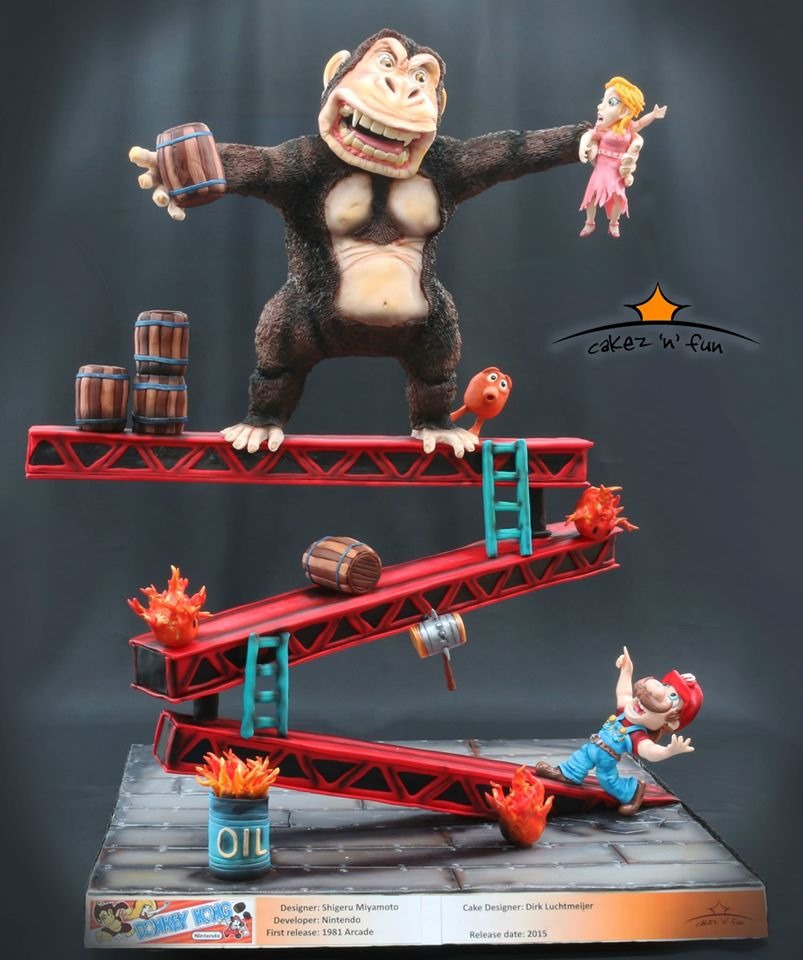 Wow! I can't tell if you are supposed to eat this stunning Donkey Kong Cake or play it! It looks more fun than the arcade game.
Dirk from Cakez 'n' Fun made this geektastic Donkey Kong Cake for the Game On Cake Collaboration. This cake collaboration tries to bring those video games that we loved as kids to life as sugar art.
This montage features close-ups of this stunning cake.
The detail on Donkey Kong is amazing!!! His face and eyes are fantastic. Those teeth make me think this cake is going to take a bite out of me.
I'd love to see Dirk do a King Kong Cake!
Something I did not know about the original Donkey Kong game. That isn't Princess Peach that Mario is trying to rescue. It is a character named Pauline. Princess Peach first's appearance was later in the legendary game Super Mario Bros.
I love this little Easter Egg. Q*bert is standing at Donkey Kong's feet.
The detail on the platforms is amazing. They look just like the construction site from the original game. Truth to be told, they actually look better than the original game.
This photograph shows off the cake board which looks like pieces of metal bolted together.
Here is Mario trying to rescue Pauline. He has to make his way up the construction site while avoiding being hit by barrels and fireballs. I love the expression on Mario's face. The red iron girders are amazing! I really like the spiked mallet which looks like it is flying through the air.
Two interesting pieces of Donkey Kong trivia. Mario was originally called Jumpman. Since the game took place in a construction site, Jumpman was a construction worker not a plumber.
But, that isn't the piece of trivia that blows my mind. Originally, when Shigeru Miyamoto was designing the game which became Donkey Kong, the game was going to feature Popeye trying to rescue Olive Oil from Bluto. It took Nintendo awhile to get the rights to use Popeye, so they went ahead and released Donkey Kong with a bunch of new / unknown characters. Ironically, Nintendo did get the rights to use Popeye in a game and they released a really cool Popeye game. The one complaint people had about the game? It was too similar to Donkey Kong! If the license for Popeye had come through immediately, we probably never would have gotten Donkey Kong, Jumpman, and Pauline, i.e. the beginning of the most popular video game franchise in history.
Here are some great photos of Dirk making this masterpiece.