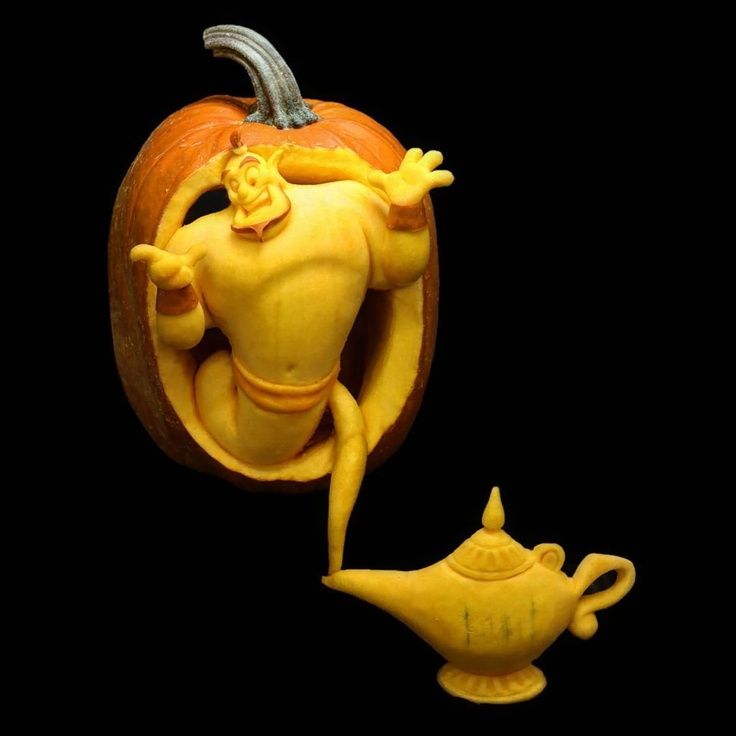 This magical gravity defying Genie Pumpkin Carving was made by The Pumpkin Artist.
Brandy must have used up one of her three wishes to make this masterpiece. The pumpkin carving is Aladdin's Lamp with wisp of smoke and the Genie appearing. The the thing that makes this so stunning is that the Genie is the pumpkin and the lamp is beneath it.
Brandy posted a video on Instagram that shows how she made this beautiful carving:
View this post on Instagram
Here is Brandy's description of the video:
Here is a short video clip of my Genie and the Lamp pumpkin carving.

In the second half of the clip I show that the lamp is a piece of pumpkin I carved in forced perspective style, which allows me to make it appear to have more depth than it actually does.

Also, if you notice that the Genie pumpkin looks a bit different in the second half of the clip, that's because it was filmed before I cut out the sides of pumpkin around Genie's character, which I'm really glad I ended up doing because it gave it that nice pop of contrast it really needed. I'll post a side by side of the before and after in the coming days.
Looking for more Disney Pumpkin Ideas? Check out the following: