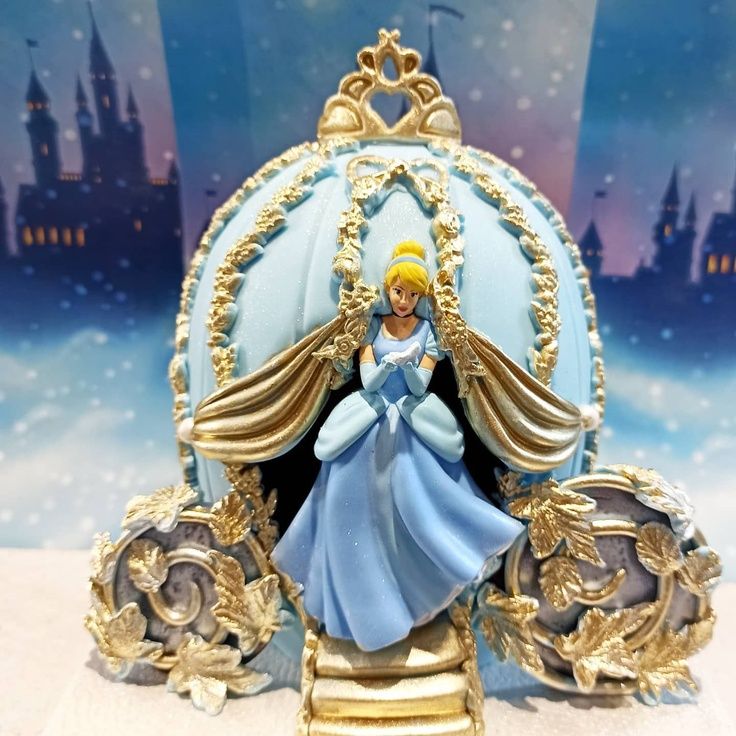 This lovely Cinderella Carriage Easter Egg was made by Zahari Sweet Shop. The carriage is baby blue. It has a gold tiara and gold braiding running from top to bottom. The carriage door is covered with gold curtains. The curtains are open and Cinderella, dressed in her ball gown, is stepping out of the carriage. The steps from the carriage are also gold. Cinderella is holding her glass slipper in her hand. The wheels of the carriage are gold vines which are rolled up.
This is absolutely gorgeous!
Here is a close-up of Cinderella
Looking for more Easter Egg ideas? I have featured over a hundred amazing Easter Eggs. Here are some of the fandom's I've covered – Alice in Wonderland, Angry Birds, Baby Yoda, Batman, Battlestar Galactica, Beauty and The Beast, Disney Princess, Doctor Who, Harry Potter, Iron Man, Mickey Mouse, Nightmare Before Christmas, Pokémon, Star Trek: The Next Generation, Star Wars, & Super Mario Bros.