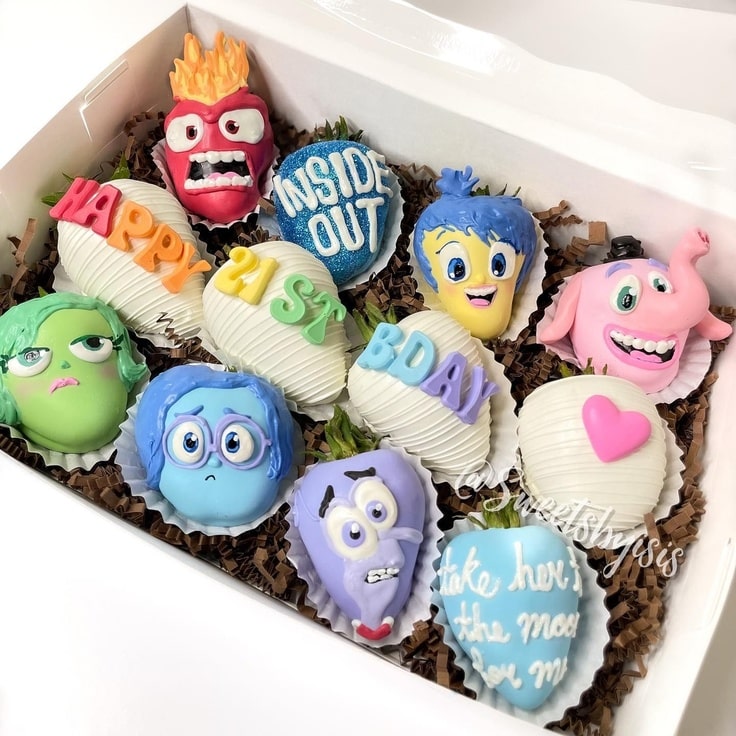 These Inside Out Chocolate Strawberries were made by Sweets by Isis. There are a dozen decorated strawberries in this set.
There are four white striped strawberries with rainbow lettering that wish the recipient a Happy 21st Birthday. One dark blue strawberry has Inside Out written in white. Six strawberries feature the characters – Anger, Joy, Bing Bong, Disgust, Sadness and Fear. Lastly, there is a quote from the movie "Take her to the Moon for me" which is a line spoken by Bing Bong from probably the saddest moment in the whole film.
The detail on the characters is amazing! Anger has fiery hair, while Bing Bong has an elephant's ears and trunk. My favorite detail is the character's facial expressions. Each character's expression reflects the emotion that they represent. So, Anger looks angry. The facial expression on each character is perfect.
This is why I love blogging about pop culture food. Where else can you write about the emotions and facial expression of a chocolate dipped strawberry?
Looking for more stunning chocolate strawberries? Take a look at these:
The skin and fur textures on these Turning Red Strawberries are amazing.
The detail on this Remy Strawberry is out of this world.
These Up Strawberries include a lovely chocolate breakable heart.