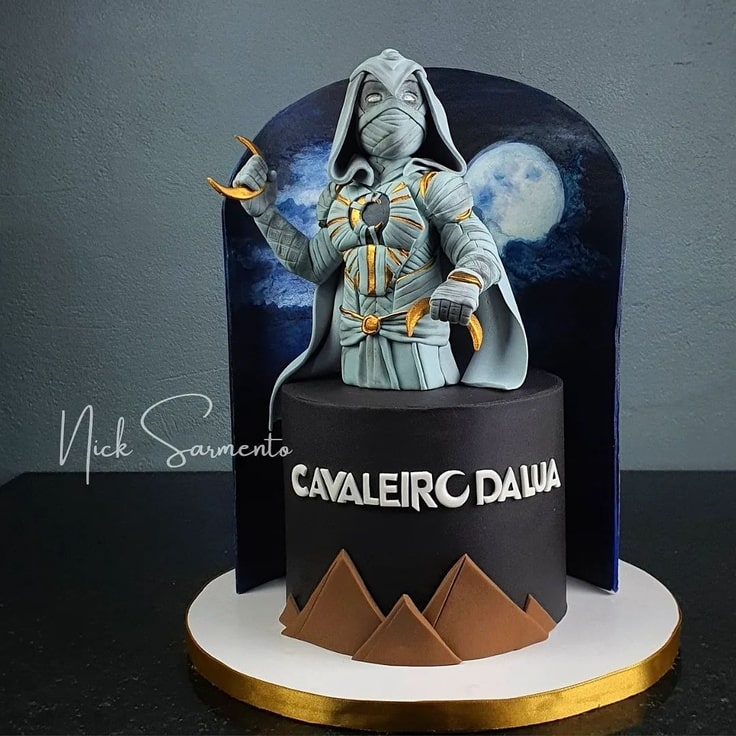 This wonderful Moon Knight Cake was made by Nick Sarmento. It is a single tier black cake with white writing on it. The font used looks like the Moon Knight font. There are desert mountains in front of the cake. The cake is topped with an intricate figure of Moon Knight with a moonlit desert night sky behind him.
The detail on Moon Knight is astonishing! Because the cake is black and the backdrop is dark blue, the gold on the costume really stands out. Notice that the cake board is trimmed in gold ribbon, that pulls out the gold on costume even more.
An example of how amazing the details is. Look at the sleeves before the gold on his wrists. You can see that the "cloth" isn't plain but it has little patterns in it. Little touch like those, make this cake absolutely stunning.
Looking for more sweet treats based on the recent Marvel TV shows?
Check out this amazingly detailed Moon Knight Cookie.
Yesterday, I featured cute Loki and Alligator Loki Macarons.
These WandaVision Cake Pops are simply magical.