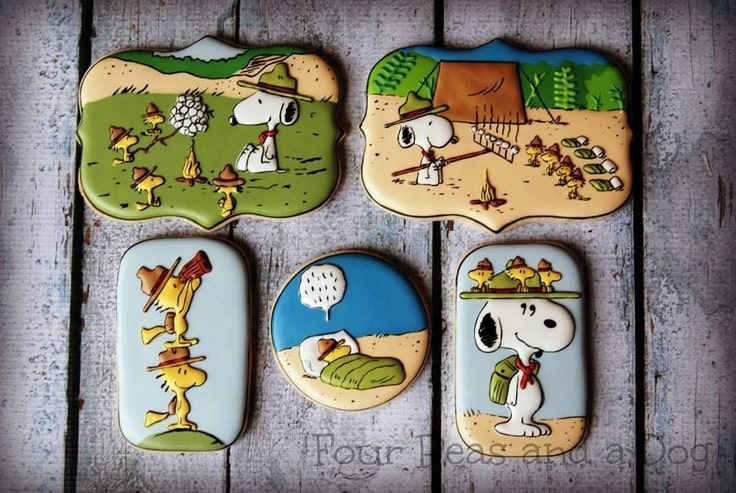 These cute Snoopy & The Beagle Scouts Cookies were made by Four Peas and A Dog. There are five cookies in this set:
The first two cookies are of the Beagle Scouts toasting marshmallows by a camp fire. In the first cookie, one bird has a branch with a bunch of twigs on it. Each twig has a marshmallow on it, so they're all one large bunch. On the other cookie, Snoopy has a rake and on each tooth he has placed a marshmallow. In this cookie, you can also see their tent and sleeping bags.
The third cookie has a Beagle Scout using binoculars. They are so short, they are standing on top of another bird.
The fourth is of a Beagle Scout tucked into their sleeping bag for the night. The cute little bird is still wearing their brown Beagle Scout hat. They're snoring, but instead of Zs, the word balloons has the little chicken scratch that are always used to show Woodstock speaking.
The last cookie is Snoopy. He is wearing a green hat, a back pack and a bandana. There are three Beagle Scouts sitting on his hat. Snoopy is looking up at them and smiling.
This is such a cute set of cookies!
Looking for more Snoopy & Woodstock treats? These can't be beat:
This lovely cake features Snoopy playing the piano, while Woodstock sits on the piano's end and listens.
Half of these cute Snoopy Cupcakes, feature Snoopy and Woodstock together.
This great Christmas Cake features Snoopy and 3 Woodstocks wearing top hats and carrying candy canes. All four characters are dancing.