These fabulous Flintstones Cake Toppers were made by Luciana Aguos. They include Fred and Wilma Flintstone, Wilma's mom – Pearl Slaghoople, Barney and Betty Rubble, Pebbles and Bamm-Bamm all grown up and with kids of their own, Dino and Hoppy. The detail on each character is amazing. I can't believe Luciana included Pearl and Hoppy, they aren't usually included.
Each figure has a separate stand, so there are so many options for how they can be posed. Luciana made a lovely backdrop for the cake topper which looks like the Flintstone's house and garage. It has stone fences on the sides and palm trees in the yard. Behind the house are mountains and a pterodactyl flies overhead.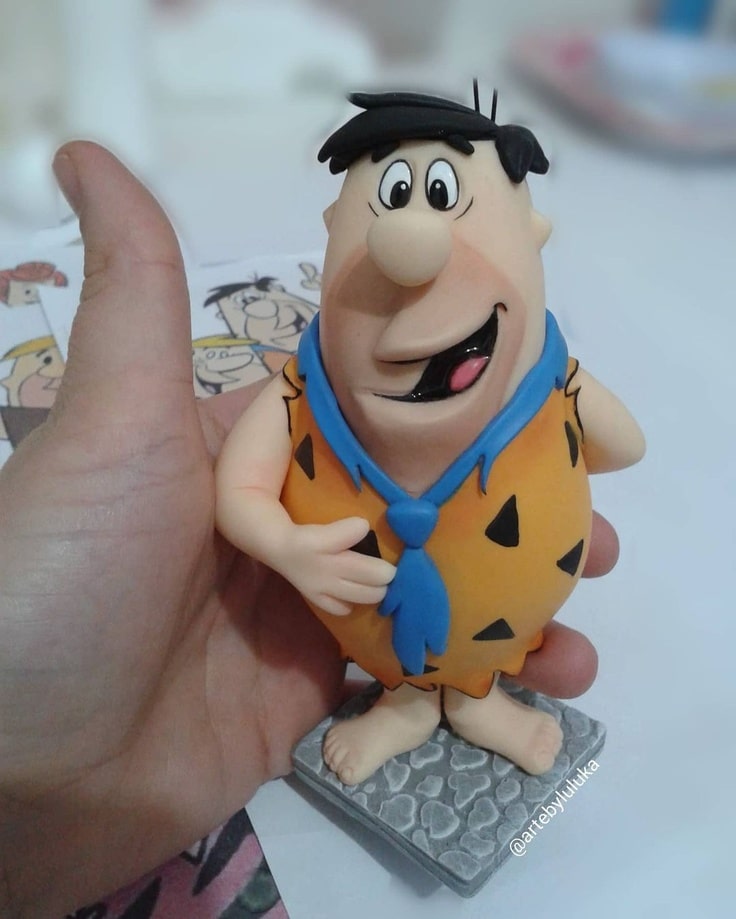 Fred is wearing his usual orange and black sabretooth skin outfit with a blue tie. He has black hair and eyes and a large nose and mouth. The sculpting on Fred is perfect!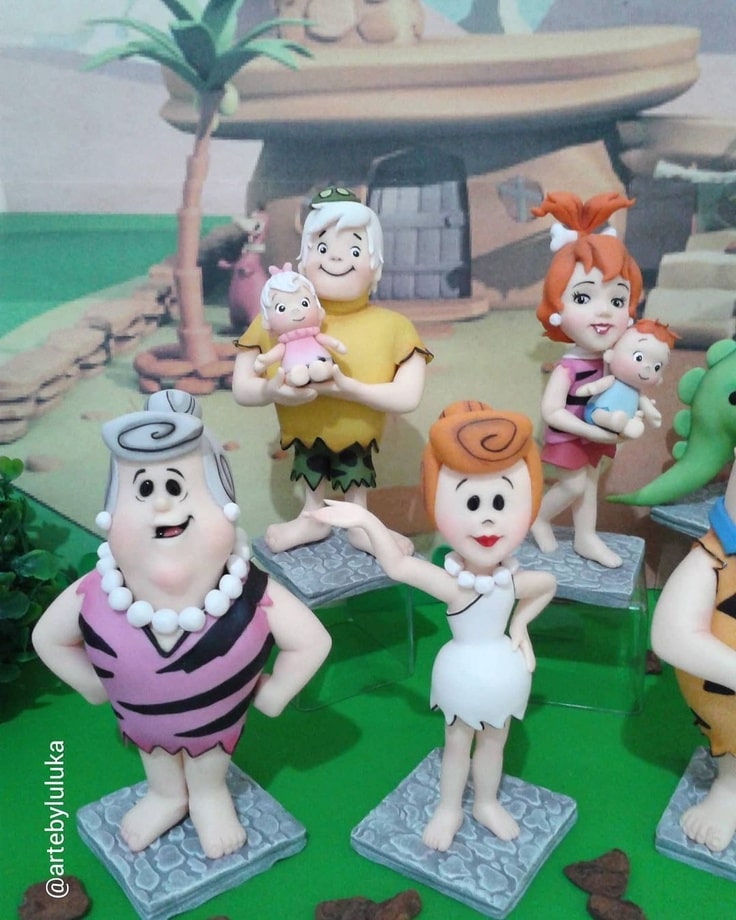 Wilma Flintstone and her mother, Pearl Slaghoople. The episodes with Pearl are always so much fun because she makes a wonderful adversary for Fred. Behind Wilma and Pearl are grown up version of Pebbles and Bamm-Bamm. Both are holding babies. I like how the baby Pebbles is holding has red hair like Pebbles, while the baby Bamm-Bamm is holding has white hair like Bamm-Bamm.
Behind Barney and Betty are Hoppy and Dino. When I was a kid, I thought Hoppy was so cute! I loved how Bamm-Bamm could ride in his pocket.
Dino, a caveman's best friend.
For more Flintstones Treats, check out the following:
Dino gets the spotlight on this cute cake.
This Bamm-Bamm and Dino Cake is too cute!
The Flintstones meet the Jetsons on these wonderful cookies.