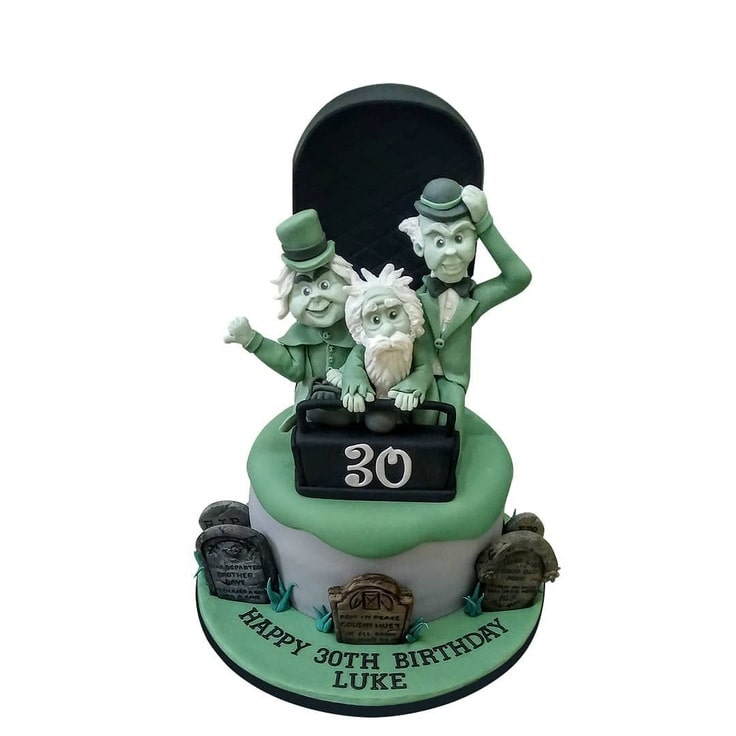 This awesome Hitchhiking Ghosts 30th Birthday Cake was made by Sweet Catering. The ghosts are so perfect that the first time I saw a picture of this cake, I thought it was a statue.
This is a single tier cake with a really large cake board. The cake board is decorated with green fondant and little tufts of grass. In the grass are the classic Haunted Mansion tombstones.
The cake's topper is the three Hitchhiking Ghosts riding in a Doom Buggy. Phineas is in his classic pose with his hand out like he is hitchhiking. Ezra is holding onto his hat. Gus is in the middle and holding onto the safety bar on the front of the Doom Buggy. Each ghost is green with white hair and a few black accents. The sculpting on them is amazing. Since this is a 30th birthday cake, there is a white 30 on the front of the Doom Buggy.
The use of color on this cake is sensational. There are two primary colors – a ghostly green and black. The grass and the hitchhiking ghosts are the same ghostly green. Most of the tombstones, the writing on the base of the cake, the Doom Buggy, and accents on the ghosts are black. The little bits of copper, grey and white go perfect with these colors and make sure that the cake doesn't look too dark.
This is one cake I wouldn't mind following me home!
Looking for more Haunted Mansion themed treats? I thought this time it would be fun to spotlight another of the Mansion's famous spooks – The Hatbox Ghost.
These wonderful Disney painted pumpkins include a spooktacular Hatbox Ghost.
These Disneyland Easter Eggs also feature an absolutely gorgeous Hatbox Ghost.
Looking for something more healthly? This Hatbox Ghost Bento Box should fit the bill. This post includes a video showing you how to make it.
If you enjoyed this post, I have one final request – Hurry Back!!!