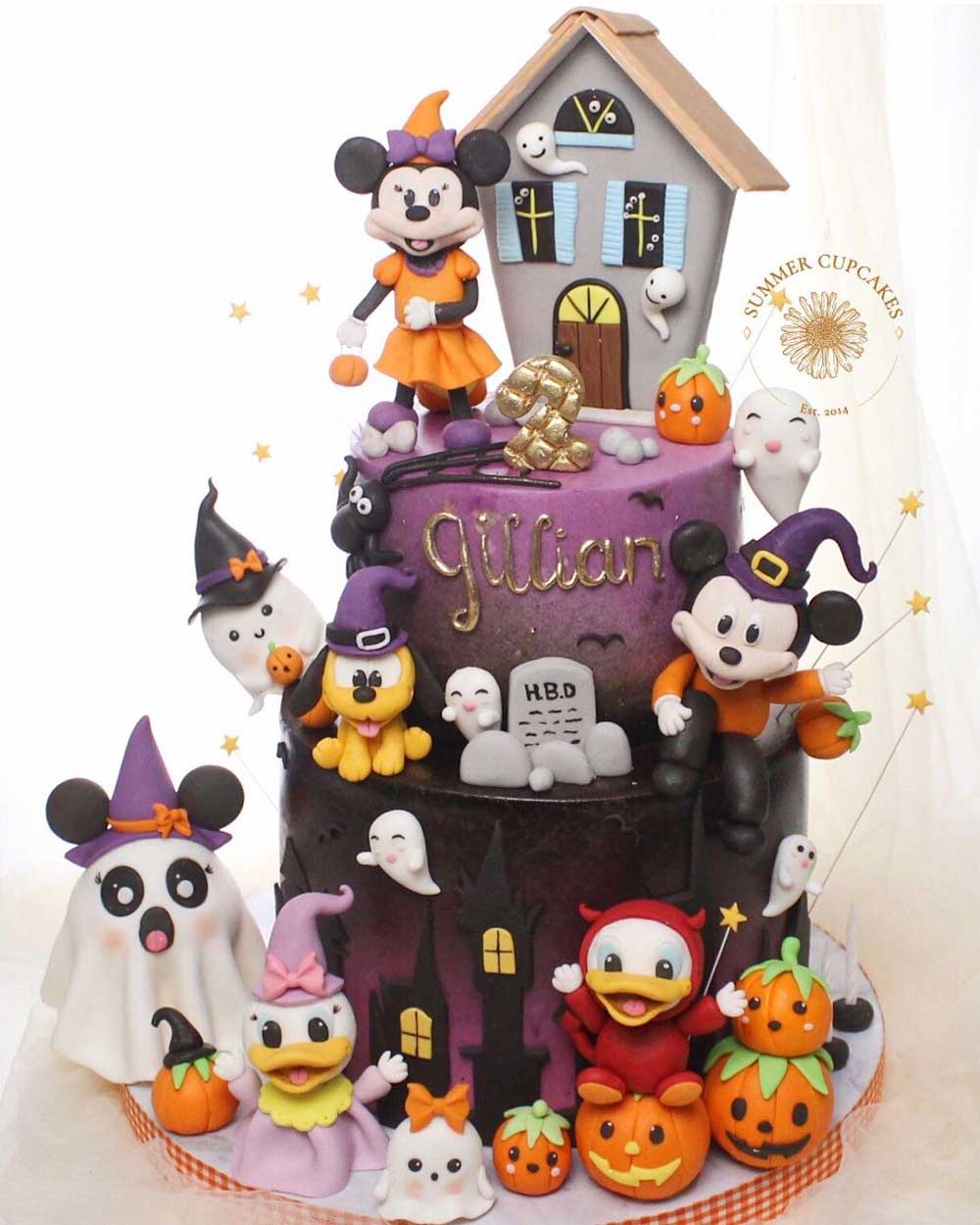 This Disney Halloween Cake features Mickey, Minnie, Donald, Daisy, Pluto. A fondant Minnie is standing on the top of the cake beside a haunted house. Fondant Mickey and Pluto are in front of the top tier. In addition, baby Donald and baby Daisy are in front of the building on the cake board.
This wonderful cake was made by Summer Cupcakes. Also, a gold number 2 represents the birthday age. The birthday name is written in gold letters on the side of the cake. Both tiers of the cake are purple to represent the night sky. Building silhouettes with yellow lit windows are on the bottom tier.
In addition, Minnie is dressed in an orange dress to match her orange pumpkin candy holder. Cute white ghosts and an orange pumpkin are around the haunted house.
Also, Baby Pluto is wearing a purple witches hat. Mickey is wearing an orange shirt to match Minnie's orange dress. A cute tombstone and ghost are between them.
Also Baby Daisy is wearing a purple dress and hat. Beside her is another character dressed in a ghost costume and wearing a Mickey Ears purple witches' hat. Also, Baby Donald in dressed in a red devil costume. He is sitting on top of a fondant orange carved pumpkin.
Looking for more Disney Halloween treats?
This Count Mickey Mouse Cake has Mickey popping out of a pumpkin.
This amazing cupcake tower features Donald as a red devil, Mickey Mouse as Dracula, Minnie Mouse as a witch, Daisy Duck as a princess, Goofy as a mummy and Pluto as a skeleton.
Also, these Donald Duck Halloween costume cookies feature him in a red devil costume and a Jack-o-Lantern costume.
Here is an adorable Dracula Mickey Cake.
This Count Mickey Cake goes for a more spooky look.