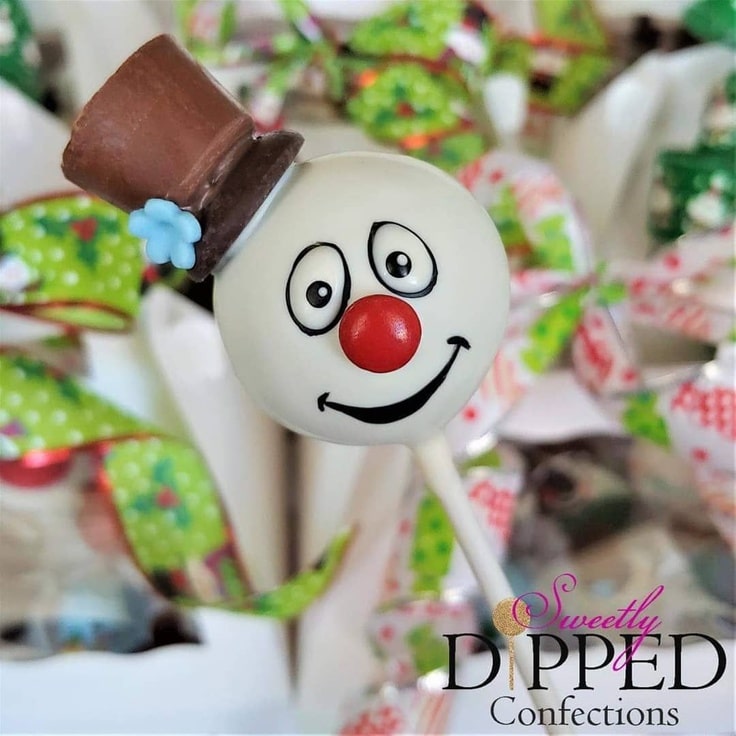 This adorable Frosty The Snowman Cake Pop was made by Sweetly Dipped Confections. Frosty has a red nose, white eyes and a big smile. He is wearing a chocolate top hat with a blue flower in it. This is a really cute cake pop. Unfortunately, I don't see many Frosty The Snowman treats, so when I see something this cool, it makes me smile.
Frosty is part of this yummy Christmas Cake Pops set. This set includes Frosty, Santa Claus, Rudolph, snow globes, Christmas wreaths, gingerbread men and more. This fun set of cake pops would be the hit of any holiday party.
Looking for more Frosty The Snowman Treats?
This wonderful Christmas Cake includes The Grinch, Frosty, Charlie Brown & Rudolph.
These cute Cookie Pops feature Frosty.
These Christmas Cartoon Cupcakes feature Jack Skellington, Snoopy, a Charlie Brown Christmas tree, Frosty the Snowman, the Grinch, Cindy Lou Who, Heat Miser and Burgermeister Meisterburger.