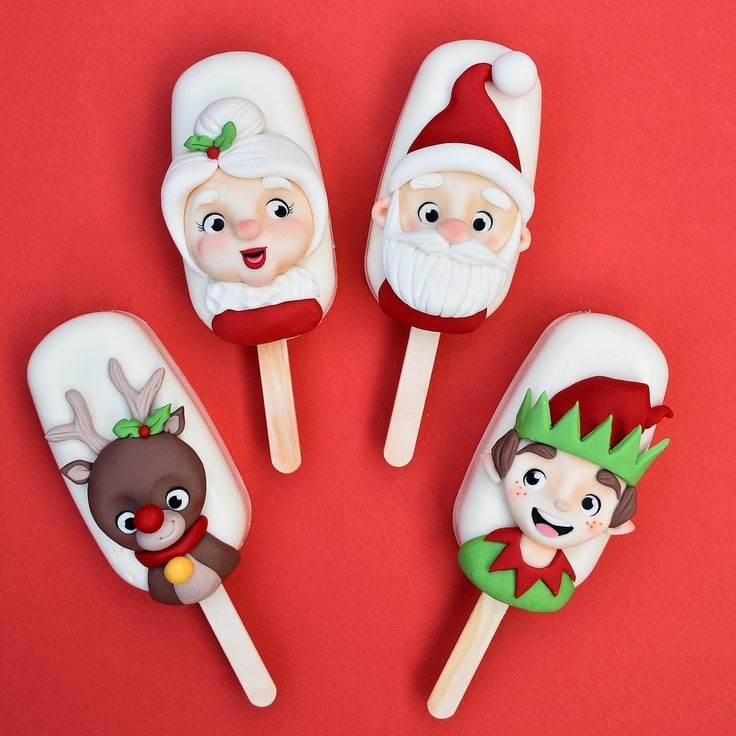 These cute Santa Claus & Friends Cakesicles were made by Yellow Bee Cake Company. They include cakesicles of Santa, Mrs. Claus, Rudolph and an elf. Vicky made these for Bake and Decorate Mag. I really like how each figure is 3-D. That's not usual for cakesicles and is one of the reasons these are so lovely.
Santa is wearing his usual Santa hat and jacket. His hair, eye brows, whiskers and beard are all white.
Mrs. Claus also has white hair. Instead of a hair bow, she has holly in her hair. Like her husband, she is wearing a red outfit with a white fur collar.
Rudolph has dark brown fur and his mouth is lighter brown fur. Obviously, he has a big red nose. He has little antlers and he has a piece of holly attached to one of them. He has a red collar with a gold tag on it.
The elf looks young. He has brown hair, freckles and a big smile. He is wearing a green outfit with a red collar and a red hat with green trim. I really like how the colors on his outfit and hat are reversed. It makes his outfit stand out more.
This Christmas Cakesicles are so much fun!
Looking for more yummy Santa treats?
These two carved cakes are a perfect recreation of Rudolph and Santa Claus from the classic Christmas special.
These Santa and Mrs. Claus Cakesicles are adorable.
This cool Santa Claus Cookie Platter consists of a bunch of cookies that fit together to make a picture of Santa.