A couple of days ago, I shared some wonderful Winnie the Pooh Cakes on a Stick made by Formigaprendada. Today, I'm sharing her Moana Cakes on a Stick. They even come with matching cupcakes. These mini cakes feature Moana, Maui, Heihei and Pua. I've become a fan of Pua because he is one of the animal companions in Disney Dreamlight Valley.
I really like how Kelen gives these little cakes a 3-D look. She painted the sea, clouds, seagulls and palm trees first. Then, she added the fondant figures. This makes these stand out so much more than if she painted everything or made everything from fondant.
Kelen also made cupcakes to go with the cakes on a stick.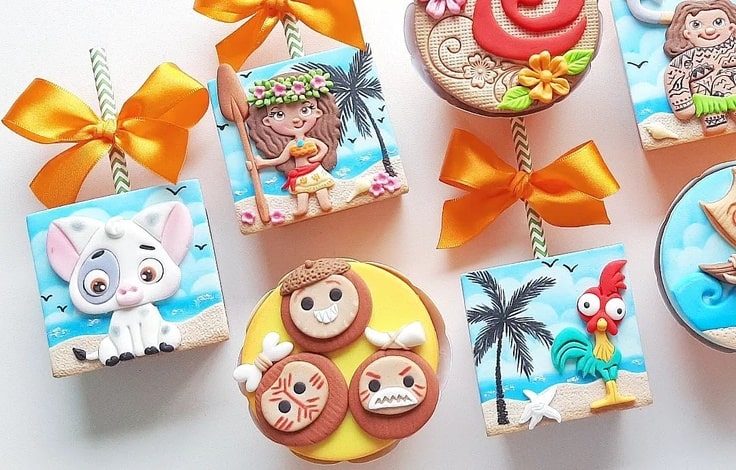 The detail on the figures is absolutely amazing! Moana is holding an oar and has flowers in her hair. Pua's nose and little tuft of hair are on top of the rest of his head, so that he looks even more three dimensional.  Heihei head is cocked slightly to the side and there is a seashell on the beach.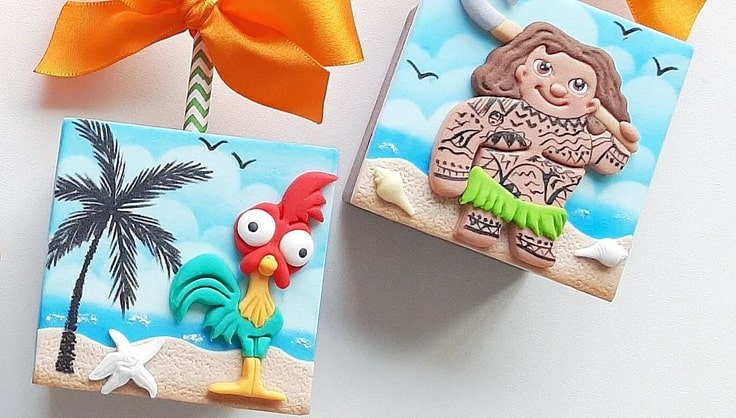 The detail on Maui's tattoos is amazing. I got a big chuckle from Kelen's Instagram post about Maui because she said the tattoos took so much work that she is now also offering tattoos. The one catch? The tattoos have to be in food coloring, so you can't take a shower or they'll wash off.
Looking for more Moana party ideas?
The detail on these Moana Rice Krispies Treats is unbelievable.
This Baby Moana Cake is too cute!
These Moana Candy Apples are out of this world.