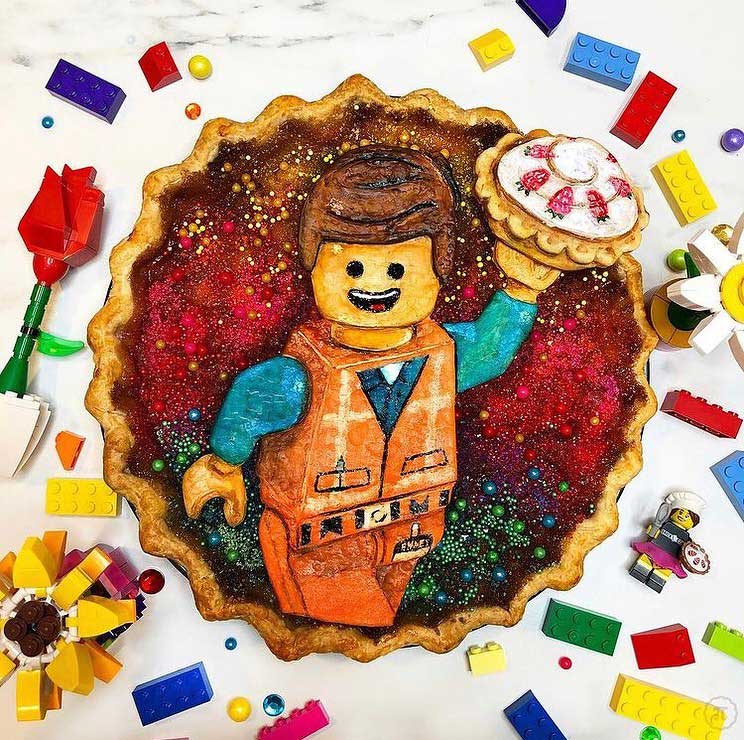 This LEGO Emmet Brickowski pie features him painted onto pie crust and holding a pie up in the air in his left hand. Emmet is the main character in The LEGO movie.
This wonderful pie was made by The Pieous.
The pie filling provides a nice background for Emmet. Firstly the top of the pie filling was covered with blue colored sugar and blue and green nonpareils on the bottom third. Next the middle third was covered with red sugar and red and gold nonpareils. Also the top third was covered with gold colored sugar and gold and white nonpareils.
Next Emmet's body was cut from pie crust and painted orange. In addition his sleeves are pieces of pie rust painted blue.
Furthermore he is holding a small pie in his hand. Also the pie is painted white with red strawberries on top. In addition notice the swirl cuts in the pie crust beneath the strawberries.
I love the way Emmet is smiling. This LEGO Emmet Brickowski pie would be a perfect way to celebrate the birthday of a fan of The LEGO movie.
For more LEGO party ideas:
Another LEGO Batman cake