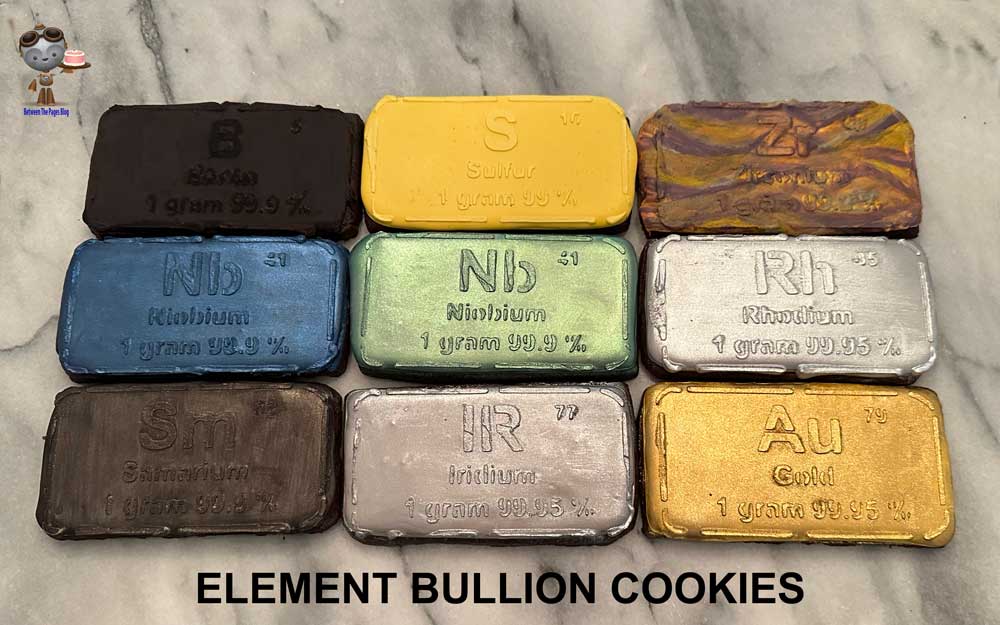 These chemistry elements cookies each represent a 1 gram bullion bar of the elements Sulfur, Niobium, Zirconium, Samarium, Boron, Gold, Iridium, and Rhodium,
I've also included some affiliate links of products I used to make these which means that at no cost to you I get a commission if you decide to make a purchase through my links.
I made these Chemistry elements cookies as a graduation gift for someone who just earned his Doctorate in Chemistry. He collects element bullion bars from Luciteria so I thought this would be the perfect gift. It was also a way to give him elements in cookie form that he may never get a chance to own as bouillon.
Each cookie represents a 1 gram bullion bar of each element. The original bullion bars from Luciteria are 30x30mm for the standard troy ounce format and somewhat smaller for the 1 gram size. My cookies are based on their 1 gram size and are in a rectangular format. Thus the element cookies are approximately 2.25 inches by 4 inches.
I chose elements based on their color and also based on how rare and expensive they were. I did elements of Sulfur, Niobium, Zirconium, Samarium, Boron, Gold, Iridium, and Rhodium,. Sulfur is yellow so that was an obvious choice since I wanted elements that were not just silver and gray. Niobium creates beautiful colors when extremely thin layers of oxide are applied through the process of anodization. Therefore I made cookies to represent an anodized Niobium of blue, green, and brown.
In addition Zirconium can be anodized into a the new type that has a gold and purple zebra stripe pattern. No two are exactly alike but all feature the same banding and color scheme.
Samarium is a dark grey color and Boron is black. These elements gave me the colors dark gray, black, yellow and purple, green, blue, brown, gold, and 2 different shades of silver.
Here's a picture of Niobium element cookies in the blue, green, and brown ionized forms.
These are precious metal element cookies of Rhodium, Iridium, and Gold. I used gold and dark and light silver edible paints to give them a metallic sheen.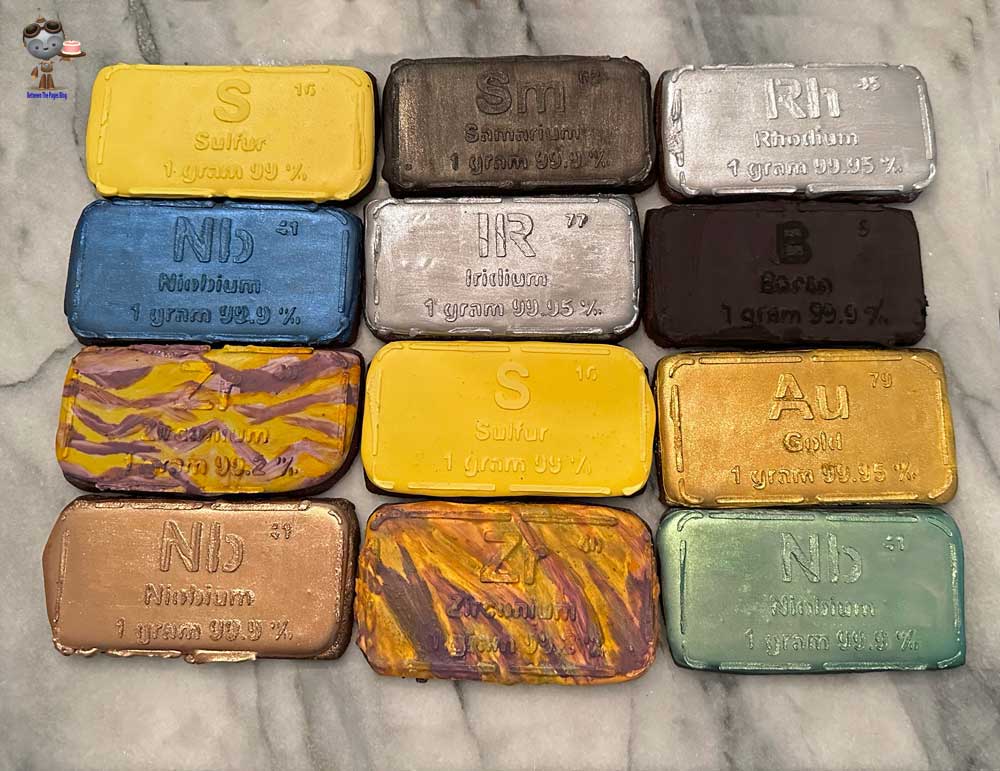 Here's another picture of these chemistry element cookies that include 2 different Zirconium element cookies.
How I made the cookies
Make cookie dough and icing
I made chocolate mint cookie dough and mint flavored royal icing. I added the mint after the icing was completely mixed up. For the Boron I added cocoa powder to royal icing then added additional water to get the royal icing dark brown. Next I added black food coloring to get it black. I cut out and baked the cookies, After that I put yellow and gray royal icing on the cookies as a base. Yellow for gold and sulfur and gray for all the rest. I tried yellow for Zirconium, but found that a gray base worked better. The yellow base made the colors too bright. I used a dehydrator and a fan to facilitate drying of the royal icing.
Paint the cookies
Next I painted the cookies with luster dust for the green, brown, and blue Niobium. Also I painted the Rhodium, Iridium, and Gold with metallic shades of silver and gold luster dust. I mixed the luster dust with golden grain alcohol to made liquid paint because golden grain evaporates very quickly. I pained the Samarium with dark gray petal dust. The Sulfur and Boron did not need to be painted. But I took an edible black marker and traced over the letters on Boron to make the words stand out more. Next I placed the cookies under a fan to dry.
Package

I used these Clearbags in order to preserve the cookies and give them a nice professional look. I taped the bag to fit the cookie.
Shipping the Cookies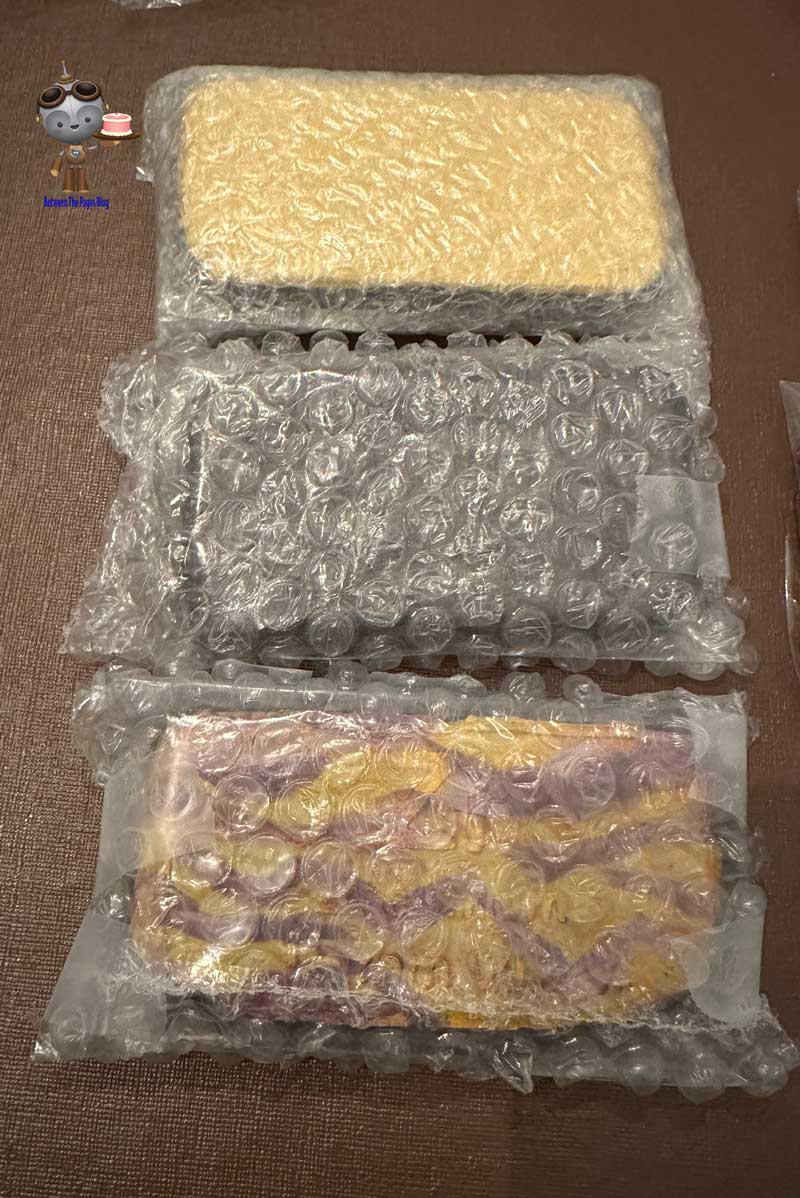 Since I needed to ship the cookies, I also wrapped each cookie in bubble wrap cut to size and taped closed around the cookie.
After that I place them in a USPS flat rate shipping box and carefully pack them standing the cookies on end and filling any air gaps with more bubble wrap or black and gold crinkle cut paper.
You may also enjoy these:
Hogwarts Defense Against the Dark Arts Cookiest that I made by my daughter when she earned her Doctorate Degree in Chemistry.
Muppet Science Graduation Book Cake that I made for my niece who graduated with a Biology degree.