"The valor and courage of our young women and men in the armed services are a shining example to all of the world, and we owe them and their families our deepest respect."
Bill Frist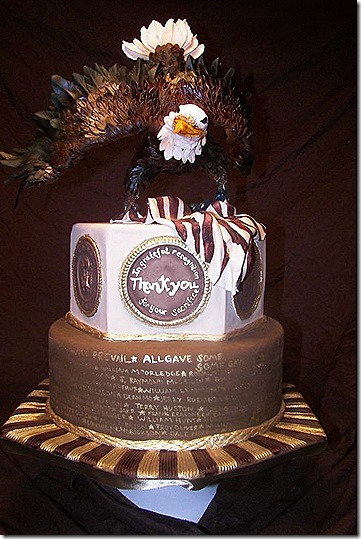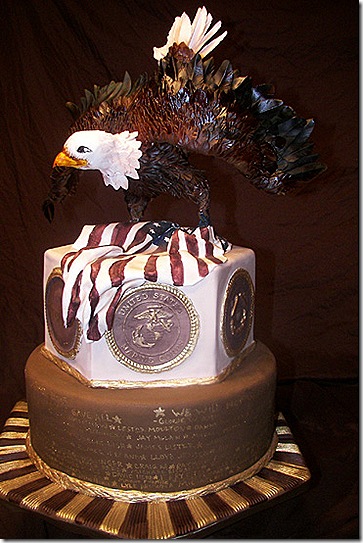 This cake was baked by Paula Ames. The names of fallen soldiers from Idaho are list on the sides of the cake.
"Perfect Valor is to do, without a witness, all that we could do before the whole world."


Francois de La Rochefoucauld
Baked by Marilyn
"True, I am young, but for souls nobly born valor doesn't await the passing of years."


Pierre Corneille
Boween baked this for a cousin who son was killed in Iraq.
"Valor is stability, not of legs and arms, but of courage and the soul."


Michel de Montaigne
This Vietnam Memorial Cake was baked by CakeDiosa
Freedom Is Not Free


I watched the flag pass by one day.
It fluttered in the breeze.
A young Marine saluted it,
And then he stood at ease.
I looked at him in uniform
So young, so tall, so proud,
He'd stand out in a crowd.
I thought how many men like him
had fallen through the years.
How many had died on foreign soil?
How many mothers' tears?
How many pilots' planes shot down?
How many died at sea?
How many foxholes were soldiers' graves?
No, freedom is not free.

I heard the sound of Taps one night,
when everything was still
I listened to the bugler play
And felt a sudden chill.
I wondered just how many times
That Taps had meant "Amen"
When a flag had draped a coffin
Of brother or a friend.
I thought of all the children,
Of mothers and the wives,
Of fathers, sons and husbands
with interrupted lives.

I thought about a graveyard
At the bottom of the sea
Of unmarked graves in Arlington…
No, freedom is not free.