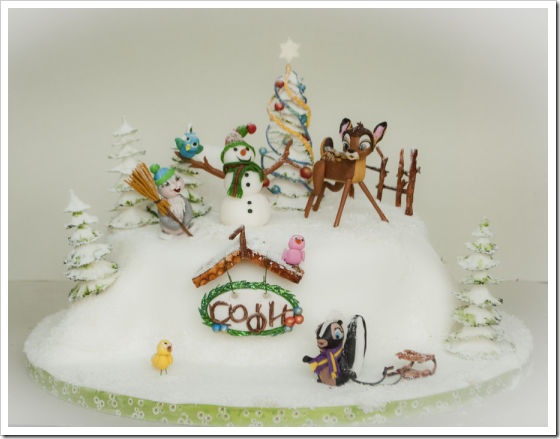 Cakes Décor member Daniela made this cool Christmas Bambi Cake. Bambi,Thumper, and Flower are featured on this Awesome Disney cake. Bambi and Thumper are on the top of the cake and there is a white Christmas Tree with yellow and blue garland and red and blue round ornaments behind them. There is a snowman between Bambi and Thumper. The snowman has three sections and has four pieces of coal for buttons. He is wearing a green and red scarf and a red and green hat. The snowman has a carrot nose and two black eyes and a black mouth. He has tree branches for arms. A blue bird is sitting on one of the snowman's arms. Thumper and Bambi look like they just built the snowman. Thumper is holding a straw broom in his hand. There are three evergreen trees covered in snow scattered around the cake. In the center of the side of the cake is a brown rooftop with a green wreath hanging from it. The birthday name is written with small twigs inside the green wreath. A pink bird is sitting on top of the roof and a yellow bird is standing on the ground below the wreath. Flower is pulling a brown sled.
Thumper, blue bird, snowman, and Bambi
Flower and his sled
In addition, take a look at these terrific Disney Christmas CakesandDisney Christmas Cookies.