Kreative Pastries and Cake Pops makes the coolest Disney Princess Cake Pops. In this post, I'm going to be featuring three different sets of their cake pops which feature Disney Princesses. This first set includes Elsa, Ariel, Jasmine, Rapunzel, Anna, Aurora, Mulan, Tiana, Snow White, Sofia the First, Meridia, Pocahontas, Cinderella, and Belle.
The details on these cake pops are terrific. Since Rapunzel has longer hair, her hair is wrapped around the cake pop stick.
Mulan is one of my favorite Disney characters. In most of her movie, she is dressed to disguise the fact that she is a woman. One of the ways that she does this is by having her hair pulled way back and tied up. This gives her a really high forehead and hides her long hair. Using that design on a cake pop wouldn't have blended with the rest of these cake pop. So, I really liked that Mulan is wearing a hair band and earrings on her cake pop.
I like that Sophia was included. I probably would have forgotten about her. I also really like how each princesses face is slightly different. You can argue that Pocahontas and Mulan aren't princesses, but I was glad to see them included in this set.
This second set features Jasmine, Cinderella, Ariel, Mulan, Aurora, Snow White, and Belle. The detail on each princess is wonderful. You could give each of these cake pops the same hair color and you'd still be able tell each princess apart.
Here are close-ups of Snow White, Belle, and Aurora. The detail on these cake pops is amazing. Thing that look so simply like Snow White having black hair with a red bow are really hard to pull off on a cake pop.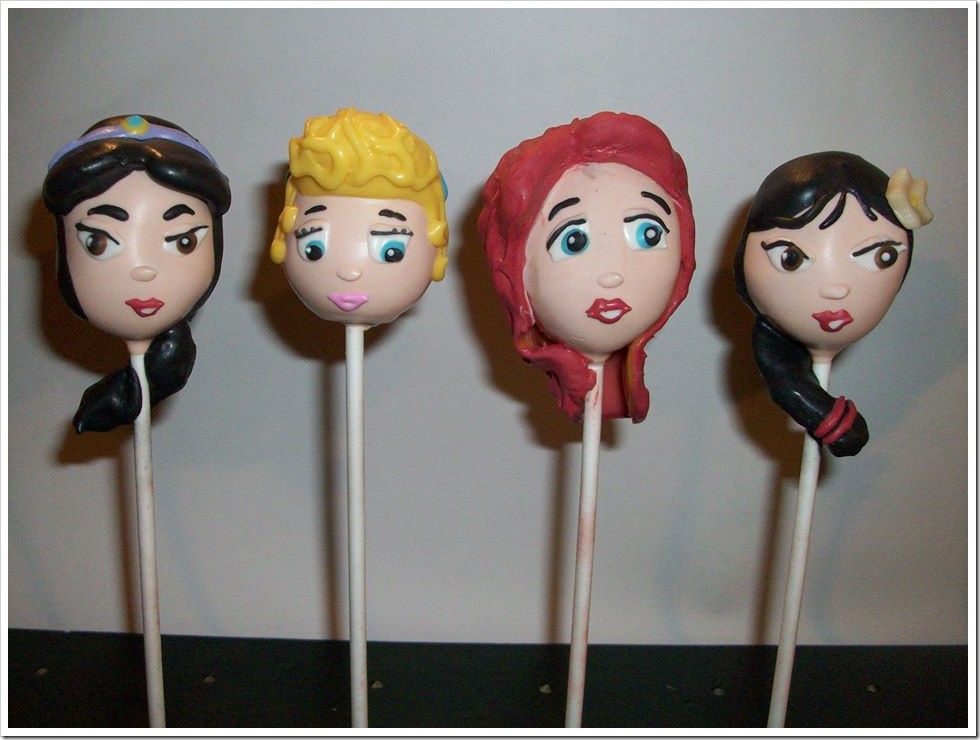 Here are Jasmine, Cinderella, Ariel, and Mulan. I can't decide if Mulan or Jasmine are my favorite of these four cake pops.
The final set features Rapunzel. As I said earlier, I love how her long hair is braided, has flowers in it, and wraps around the cake pops stick. Details like those really make these cake pops stand out.
MoreDisney Princess Cakes and Cookies and Cupcakes.
Also, check out these splendid Pop Culture Cake Pops.